The 17U standouts of the Rumble Up North included several players that boosted their stock in a big way.  
Tyler Andrews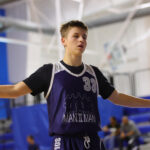 Tyler Andrews 6'3" | SF Cedar Rapids Kennedy | 2020 IA of D1 Minnesota (6'5/6'6 wing of Vermont Academy, 2020).  This weekend Tyler played the best basketball I have seen him play.  Sure the two dunks that everybody is highlighting were incredible, and that explosive athleticism is an asset that coaches will talk about when discussing Tyler.  The bigger part of his play that makes him a stock riser is that parts of his game are improving.  He's taking, and making, better shots.  Tyler is defending with more discipline.  He's doing things that show that not only is he an explosive athlete to consider, he's an explosive basketball player to consider for your program. 
Charles Crews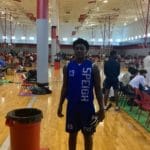 Charles Crews 6'3" | CG Bayshore Christian | 2021 State FL Jr of Team Speights (6'3 SG of Bayshore Christian, 2021). Team Speights has a lot of good pieces and those pieces work hard as a unit and play good team basketball.  Each player has a role.  Crews often had the role of using his left handed shooting stroke to make feet set shots in the corner, or attack off a screen/reversal 15 seconds into the possession when the defenders were reacting later to their position.  Crews used his quickness and touch to score in those situations plus he was the guy that could break down his man and create a shot in a tough spot when his team was in that type of situation in a possession.  Offered by Steson after the event. 
Jalen Houston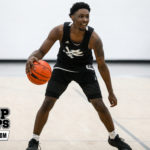 Jalen Houston 6'0" | PG Hyde Park | 2021 NC of Young N Reckless (6'1 Guard of Hyde Park, 2021).  When Jalen Houston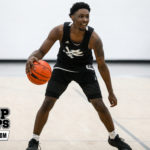 Jalen Houston 6'0" | PG Hyde Park | 2021 NC attacks off a ball screen, or when he catches a reversal to attack, this man is coming at the rim with all the speed he has and forces you to either take a charge or let him have the results.  The speed of which he gets from the arc to the rim really grabbed my attention and the way Houston was able to apply controlled recklessness (see what I did there?!?!) for an extension after contact was something I took away.  Type of player that feels like he should be taking calls from area schools right now.  You just can't teach that speed and physical approach to attacking the rim. 
Tyler Johnson Tyler Johnson 6'4" | SF Norwalk | 2020 State IA of Illinois Hoop Stars (6'3 SG of DePaul Prep, 2021). At first when I looked into Tyler Johnson Tyler Johnson 6'4" | SF Norwalk | 2020 State IA as a Loyola commit I thought "nice get".  After this weekend I think I have changed my thought process to, Loyola may have got a steal.  I love the quickness of which he gets into his pull-up jumper.  His attack to the jumpstop followed by a the release are so quick that it's tough for a defender to react in anyway that can get a good hand on the ball.  Was a 40 percent from the arc guy this weekend with his feet set and I loved how Johnson always had a "next play" look to him after each basket scored.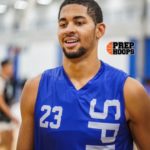 Michael Phillips Michael Phillips 6'3" | PF Surge Christian | 2021 FL of Team Speights (6'8 PF of Creekside; 2021).  When Speights put the ball in his hands around the basket, Michael took care of business aggressively. The rest of his contributions this weekend were rebounding in bulk, and scaring offensive players away from attempting any shots near the rim.  Some of the blocks were so physical, and so heavy in denial that caution signs needed to be added for those working along the baseline and may not be ready for a cannonball like blast headed away from the court.  Phillips exploded off the ground to rebound so quickly that at times you would lose view of the ball because Phillips consumed it with his frame.  Physically this young man is there and his motor was revved high in the Twin Cities. 
Dalante Shannon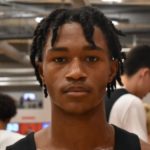 Dalante Shannon 6'2" | CG Edmond North | 2021 State OK of Team Buddy Buckets (6'2 SG of Edmond North; 2021).  If there is one guy that I was asked to sit down and make calls to college coaches for it would be Dalante.  I simply love how every possession he raced to his defensive position, sat deep in his stance, and simply went at his man to either make sure the ball never was touched, or to make sure that Shannon was centered on the ball at all times.  His aggression in turning the player and then closing the gap forcing further lack of comfort to his man is what defense is all about.  Shannon was one of the most consistent scorers for Buddy Buckets this weekend with a constant basket attack forcing teams to put him at the foul line.  If coaches sit down and watch his tapes – like the 17 point game versus Young & Reckless for example – they will see a guy that makes the most of his opportunities on one end, and then creates them for his team with constant defensive effort on the other.