 Posted On: 08/28/20 10:46 AM
August 15th and 16th I attended Justin Vargas King of AZ tournament at Arizona Sports Complex in Phx, AZ.  
He had ages 15U-17U playing 4 games each in the two days. many of the top AZ AAU programs were involved plus one mystery team with a lot of talent that played just for the weekend. 
Here were some more of the junior standouts:
Micah Pierce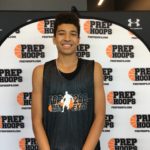 Micah Pierce 6'7" | PF Phhoenix Prep | 2022 State AZ Phhoenix Prep (AZ Select 16 UAA Rise)
-A high motored power forward is a quick second jumper. He is super active and makes plays off of hustle using his athletic gifts and motor. From rebounding, blocking shots, keeping plays alive and sheer hustle. His athleticism, hard work, length and improving skill makes him an intriguing prospect.
Cameron Stokes Cameron Stokes 6'5" | PF North Canyon | 2022 State AZ Pinnacle (PAL Elite 16 & 17)
-A freaky long face-up forward that just keeps looking better every showing. He is incredible on the glass and blocks shots and always seems to come away with the ball in pile of players with effort/motor. He has that wiry body and he seems like he can run for days. He somewhat of an unorthodox shot but makes 3's at a good clip off