Posted On: 07/20/20 12:40 PM
The 15u divisions of several Georgia-based AAU events featured some top talent and several long-term prospects to keep an eye on.  The players listed here are reflective of this weekend in a vacuum.  Who did well during this tiny, albeit revealing sample of games?
First Team
F Rodney Broadnax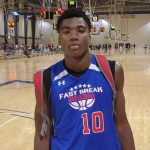 Rodney Broadnax 6'5" | PF Cleveland | 2023 State TN - Fastbreak AAU
Rodney's weekend thoroughly impressed both his high school coach and his AAU coach.  "Rodney was big-time this weekend," said AAU Coach Bryon Lawhon.  "He was a rebounding machine.  I think he had 2-3 games with double digit rebounds.  Ran the floor really well.  Shot his free throws well.  Finished through contact.  Defensively, he stood his ground."
Broadnax dressed Cleveland High School varsity his entire freshman year, which in itself is an honor.   
"The kid just attacked the offensive glass," said Coach Lawhon  "Attacked the defensive glass.  He was a beast in the paint.  He is a 6'3"/6'4", so he is not going to out-size anybody.  This weekend we went against a couple of 6'5" and 6'6" and a couple 6'3" and 6'4".  He had double-doubles in two of the four games.  In my opinion, he was the top 2 bigs in the