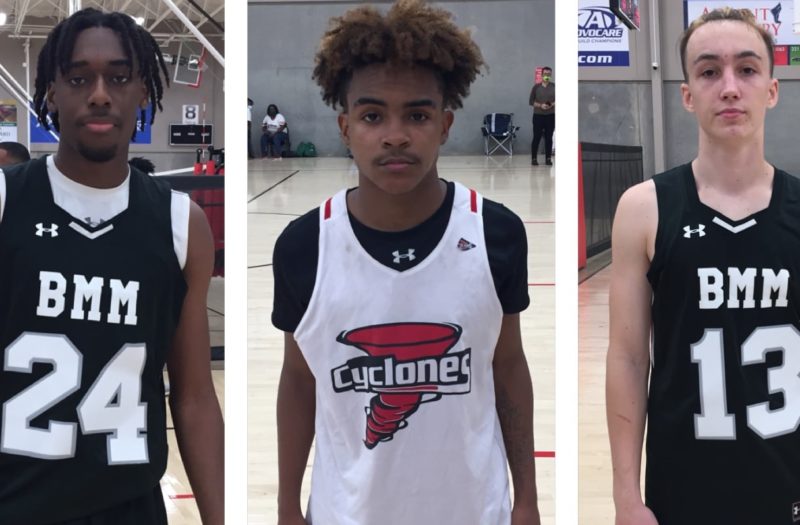 Posted On: 07/22/20 5:08 PM
The Scrimmage presented by Play Ball Nation was a one-day tournament that featured five North Texas teams made up of some of the top and more underrated talent in the metroplex. Games were played back to back with not much of a break in between, which made it easier to see which players could keep up a high level of play for an extended period of time. A lot of guys stood out, but here are the top performers that made major impacts for their teams. 
Everything seemed to come easy for Cruz Davis Cruz Davis 6'3" | PG iSchool Entrepreneurial | 2022 Tuesday night. He was ready to play from the jump and got his team going right out the gate with a three that hit nothing but net. Very efficient day for him, a flat out killer from the mid-range. Cruz did such an outstanding job of creating for himself and breaking down his defender, that by the time he released the ball he was practically wide open. Consistently beat his man off the dribble with his a sneaky quick crossover. He starts his move so smooth and fluid that you can't even guess what he's going to hit you with, and then before you know it he adds a burst of quickness and just blows by you. Cruz Davis Cruz Davis 6'3" | PG iSchool Entrepreneurial | 2022 made it very clear who the most skilled player on the court was. Whenever the ball was in his hands, fear was in the defender's eyes. He did a lot of scoring, but he also made sure everyone touched the ball, he set his teammates up and kept guys involved.  On the defensive end, he made it tough for guys to get a clean look when shooting, his arms are so long it makes you have to alter your shot so it doesn't get thrown into the stands. The kid has unlimited amounts of energy, there wasn't a moment I saw him tired or winded. Cruz Davis Cruz Davis 6'3" | PG iSchool Entrepreneurial | 2022 is quiet and composed on the court, he never says a word, he just plays ball, the definition of silent but deadly.
Most Outstanding Performance | Alfred Washington | Cyclones Elite '21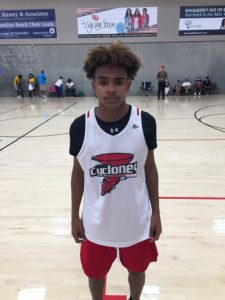 If I had to describe Alfred Washington with one word it would be playmaker. He created offense and scoring opportunities for his team over and over again, he had full control of the offense and everything they did ran through him. Standing at 5'5, he used his small size as an advantage, slipping and sliding through the defense and getting to the rack. Quick twitch ball-handler, with highly impressive blow-by speed and quickness, he got to any spot on the court whenever he wanted. Alfred showed high-level point guard skills, he played only two games but he was still the top assist leader of the day. Washington is a true bucket getter, in game 2 he had a stint where he scored 7 straight points in less than a minute and had half the team's points after the first half. He also displayed good leadership on the court, very verbal, played with an incredible amount of energy, hustled hard every single play, and was fearless, he didn't quit no matter what score was on the board.
Defensive Player of Day | Jesse Iweze | B.M.M. (Basketball Means More) '21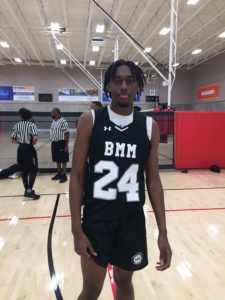 Jesse Iweze played his role exceptionally well. Not only was he the best rebounder in the building, but he was also the best defender on the court. Strong inside presence, no one got anything easy on him in the paint, he has great length and uses it perfectly under the basket; good instincts on when to go for blocks and when to just put his hands straight up. 6'7 Iweze also showed versatility on defense with his ability to stay in front of smaller players; with his quick feet he can defend every position on the court from point guard to center. He played strong and big down low, completely dominated the glass every game; that long reach made it look easy for him to stretch and leap over everyone for rebounds. 
 Shooter of the Day | Thibaut Tagnon | B.M.M. (Basketball Means More) '21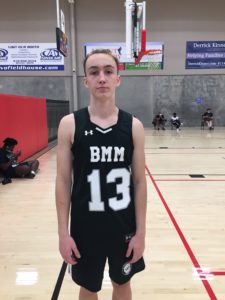 Thibaut Tagnon was lights out game after game, he had a very efficient day and was nearly automatic. This 3-point specialist was one of the most confident shooters I've seen in a while. His focus and consistency when shooting the ball were impeccable. Tagnon loves the 3-ball and he shoots it with range, he knocked down his shots even when being fouled or with hand in his face. Thibaut Tagnon led the day in 3-pointers made, he had the green light anytime the ball found him, always stayed in position to shoot and kept his feet set and squared at all times. 
True stretch 4, his ability to pop out and post up were game-changing. Good shooter, you cannot let this kid get a clean shot off or he will make you pay, especially around the top of the key. Reed displayed a strong interior offensive game, with his solid footwork and turnaround jumper. Every team got physical with him, but he battled and banged with guys do low and still found a way to get the job done.

Matt Reed

Matt

Reed

6'9" | PF

iSchool Lewisville | 2023

State

#

46

Nation

TX

really got it going by the third game, everything he put up seemed to fall, and he was the key piece to closing out their last game for a win.