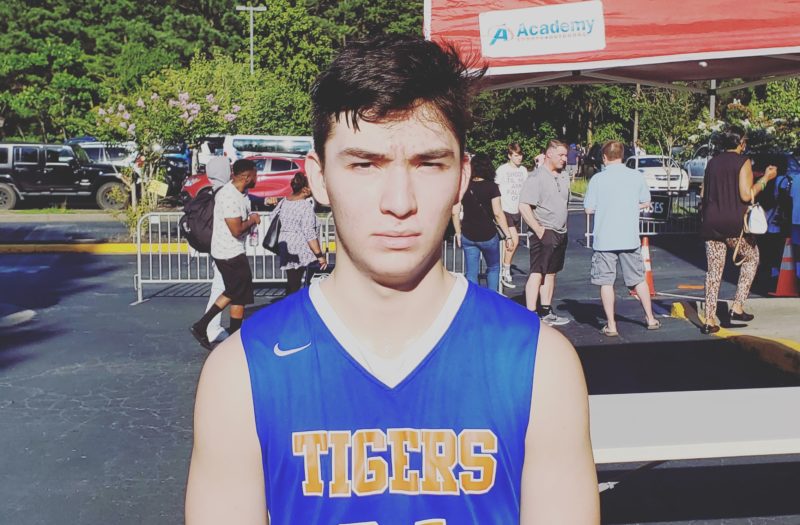 Posted On: 07/11/20 10:16 PM
Shooting deserves recognition always. The following players made easy shots easily and on occasion difficult shots appear easy.
|Brevin Klym | Franklin High 2022 SG | Tennessee Tigers 16u
Few put more hours in the gym shooting than Brevin Klym.  Brevin's best shooting came his first two games.  The fourth game, against HYPE, showed off that customary high, high arch.  Not to give too much away, but Klym loves those corners and deep wings.  He spreads the floor expertly and the Tigers' system truly suits his strength. Perhaps Klym's biggest bomb came at 35-28 after HYPE manufactured a scrappy comeback. Klym hit a needed three-pointer.  It gave the stagnating Tigers a little breathing room.   
Zach Amonett | Pickett County High 2022 G | Tennessee Tigers 16u
Zach entered his summer with a lofty reputation.  Though his first Saturday evening game showed scrappy, defensive play, the Saturday late-late game revealed why college coaches are aware of Amonett. Facing a physical although undersized HYPE team, the Amonett buried a staggering four three-pointers in the 29-point first half.  Beyond knocking down triples, Amonett is a spunky, confident player.  He doesn't shy away from Alpha-males or cower from the open shot.  Big-game player. 
Outside shots were largely hit or miss (What else could they be? lol) for Greg Moore Greg Moore 6'4" | SG Knoxville Central | 2021 State TN Saturday.  His high-arching shot was absolutely a nuisance in the late game.  Moore is a better than average outside shooter and hits some in the mid-range too.
The shooting form and consistency of Trey are very bankable.  Hamilton is a dual-threat player in that he attacks well off the dribble too.  
[Camden Gober | Cleveland High 2023 G | Fastbreak AAU 15u 
Fastbreak AAU is a loaded team and Camden plays his role perfectly.  When Jasen Brooks and Alex Hyder are bullying defenders with their powerful bodies, Gober is hovering around the arc waiting.  Gober hit his share of three-pointers Friday evening and will be a deep threat for years to come.  Great form.