In this article, we are going to take a look at some of the best performers from the class of 2023. These players were just freshmen last season but have already begun to make a name for themselves on the court. 
Ronald Jessamy | 6'5″ C | Rossview 
Despite being a freshman Jessamy is already a force to reckoned with in the paint. Leading all Tennessee freshman in offensive rebounds and in blocks, he has proven the ability to perhaps develop himself into being one of the best lockdown bigs in the state. He has incredible defensive instincts and is a very aggressive shot blocker and will attempt to contest every shot he can. Once his body fills out and he improves on his offensive fundamentals, he is going to be a very dangerous and complete basketball player.   
Will Keltner | 6'1″ PS/SG | Trinity
This kid might be the most solid freshman player I've seen in a while. Once Will gets into the paint its over, his diverse layup package and finishing ability are nearly impossible for opposing defenses to figure out. Averaging 13.3 points a game and leading all Tennessee freshman in triple-doubles with 7 just proves how complete his game already is. He has tremendous court awareness, knows when to shoot, pass, and drive at the right time. I would like to see him improve on his 55% free throw percentage, but he has plenty of time to polish that up. 
Here is some highlights from my Freshman season. My season stats, too. Ready for AAU and next season!!

387 points (13.3 ppg) with a 45% FGP
183 rebounds (6.3 rpg)
80 assists (2.8 apg)
34 steals (1.2 spg)https://t.co/68CObT3aNb

— Will Keltner (@wkeltner23) March 18, 2020
 Hayden Llewellyn | 6'2″ PG | Jellico
The first word that comes to mind when you watch Hayden is "smooth". His movements are fluid and he has above average ball-handling ability. He is an absolute scoring prodigy averaging 26 points per game during his freshman year. Has a lethal mid-range shot that seems automatic at times and is an absolute terror in transition, almost reminds you of a young Deron Williams. Made his All-District and All-region teams as a freshman and if he can develop his outside shot, it would not be a surprise to see him competing for the state scoring title for the next three years. 
  Jaylen Jones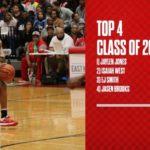 Jaylen Jones 6'0" | PG East Nashville | 2023 State #152 Nation TN | 6'0″ PG | East Nashville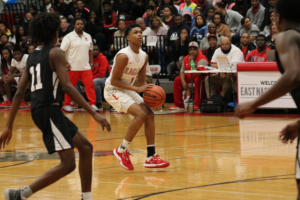 Jones in his freshman year has already proved himself one of the top point guards in the Nashville area. Leading all Tennessee freshman in assist per game and averaging over 15 points a game, he has established himself as an extremely productive player who has a lot more room to grow. Jaylen has unbelievable court vision for his age and already has above average ball-handling skills. Jaylen has already developed a very solid three-point shot hitting an impressive 41% from beyond the arc. The sophomore has already received an offer from Tennessee State and is sure to have plenty more offers coming down the road.
Damon McBride | 5'10″ PG/SG | Overton 
Damon is a very raw prospect. He averaged 7.8 points per game last season which led all AAA freshmen in the state. He is a fearless defender who is willing to put his body on the line to try and make a play. It is very apparent he has great potential on offense, shows flashes of brilliance and versatility often while playing just needs to work on his consistency. Despite being his freshman year McBride has already been described as a team leader and someone his team can count on to disrupt defenses to help allow his teammates to score. Be on the lookout for Damon to really take a huge step forward in his development during the upcoming season.