It's finally time for the top eight players in Manhattan. These players didn't just play up to the competition for the season, they outplayed them. They won their one-on-one battles against their matchup on a consistent basis, as well as bringing their team to new heights. They proved that they deserve a chance at playing basketball at the next level, and will certainly make waves for next season.
8. Jose Minier Taveras | Junior | Gregorio Luperon
 If anyone put Gregorio Luperon on the map basketball-wise, it would be, without a doubt, Jose Minier Taveras. Taveras has spent all season demonstrating that he can score, and he proved he really can. Whether it's from fastbreaks stemming from effort plays on defense, shots of passes from anywhere on the court, or his own space creation, Taveras made it look easy to put the ball in the basket.
7. Seck Zongo Seck Zongo 6'6" | SF Patrick School | 2023 #209 Nation NJ | Freshman | Murry Bergtraum
Seck Zongo Seck Zongo 6'6" | SF Patrick School | 2023 #209 Nation NJ has spent this past season rewriting the definition of freshman. A freshman was a kid who rarely would make the varsity team, and when they did, it would usually be as a redshirt or in very limited capacity. Zongo has cracked the rotation, helped his team, started games, earned highlight plays and most importantly college scholarships, as a true point forward. Only a freshman, Zongo will be an exciting prospect to watch for the next 3 years at Murry Bergtraum.
6. Oussema Saddi | Freshman | Washington Irving
Oussema Saddi too, like Zongo, was a freshman but absolutely blew expectations out of the park. However, Saddi did not have the benefit of being part of a stacked roster like Zongo, but rather Saddi had to be his own rock for his team. Saddi spent the majority of his time in the paint, easily coming off screens to score while being a commander of the paint and second-chance points, and his defense would be better, denying the best ball-handlers a clear glance at the rim.
5. Keianu Woodward | Junior | Murry Bergtraum
No, you are now witnessing bias towards Murry Bergtraum, but you are witnessing the effects of a well-made team, stacked 1-5. Murry Bergtraum adds to their accomplishments with yet another player inside the top 25, Keianu Woodward has been relegated to a number 2 role on offense, but he showed he can thrive as much as he can at the forefront. Woodward dropped bombs from beyond the arc, while he dished the ball to the rest of the team, being a main contributor to the Berg offense.
4. Joselito Rosario | Junior | Graphics Campus
As basketball transforms into a more shooting-heavy sport, shooting really is the name of the game, and Rosario has proven that it is the name of the game. Rosario didn't just pop the ball from three, he shot the lights out on his way to becoming one of the top shooters in the state, maybe country. Rosario combines this with his natural defense and playmaking ability to become one of the top players in the city.
3. Blair Thompson | Junior | Xavier
As Xavier looked for the man of their season, they found more than they asked for in Blair Thompson. Thompson demonstrated he has all the tools needed to succeed in modern basketball. Thompson can shoot from anywhere, including an added level of spacing when he lets it fly from deep, as he can also take the ball to the hole with handles, as well as be active against all positions on defense, especially the perimeter.
2. Randy Crosby Randy Crosby 6'1" | SG Wheels | 2021 State NY | Junior | W.H.E.E.L.S.
Randy Crosby Randy Crosby 6'1" | SG Wheels | 2021 State NY has shown that he has what it takes to be a great player at the next level. Crosby has his due applause for being a great player personally, but he was also able to elevate his team with his play, not only pad his numbers. Crosby led a great W.H.E.E.L.S. team to overall be one of the best teams in the league, and even state, this season. His ability to not only score but to be a great team player and facilitator should come in handy for DI coaches.
1. Dior Davis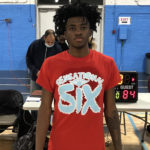 Dior Davis 6'0" | PG Springfield Commonwealth | 2022 State | Junior | Murry Bergtraum
Already a division I caliber player, Dior Davis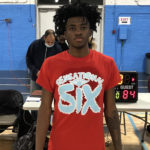 Dior Davis 6'0" | PG Springfield Commonwealth | 2022 State presented an impressive 2019-2020 season. Davis played on a stacked Murry Bergtraum team and somehow found a way to distance himself from the pack. Davis played every aspect of point guard at an A+ level, being an excellent floor commander, defender, and driver dazzling defenders with a deadly shot and twin handles. Davis will be reclassifying to the 2022 class, so expect two more seasons of dominance.