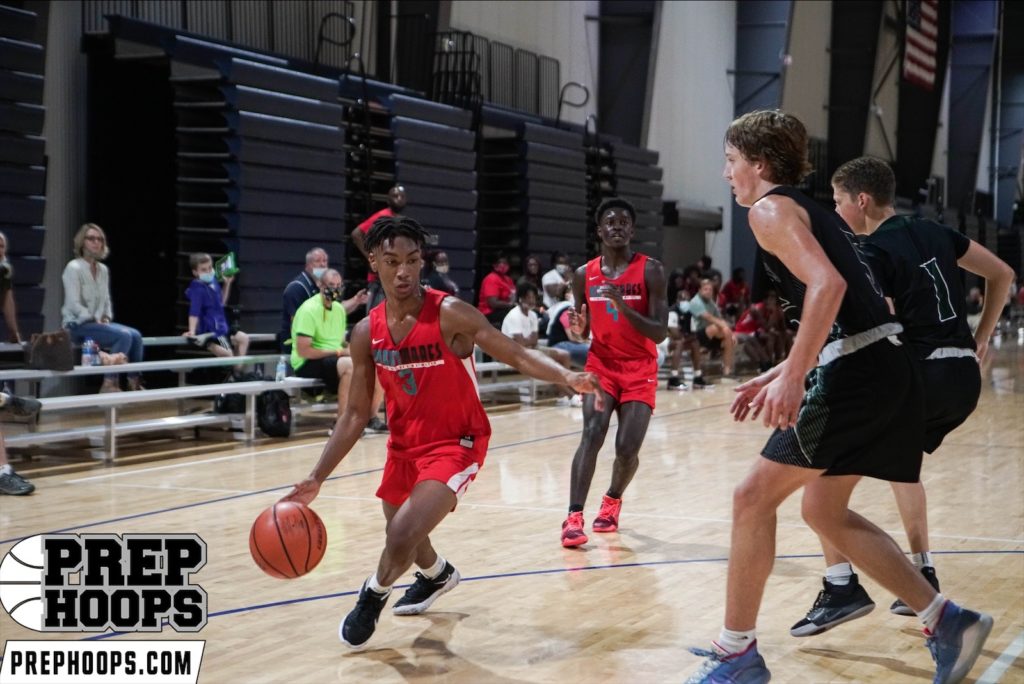 Posted On: 07/22/20 8:11 PM
There was so much gritty basketball at the Prep Hoops A-Town Showdown this weekend at the LakePoint Sports Complex in Cartersville, Georgia.
I wrote about top standouts after Saturday and Sunday's packed slate and now it is time to look at some playmakers in the 15 and 14U division.
15U
Jashuan Belton & Antonio Sanders | Atlanta Celtics South
Two of the best younger prospects at the tournament came from the Atlanta Celtics South. Jashuan Belton, a 2023 6-3 guard went off for 44 points in the second game on Saturday and was consistent all week long with his driving ability and confident approach to the game. As for Antonio Baker Antonio Baker 6'2" | CG Johnson-Savannah | 2023 State GA , the 2023 6-2 Sol C. Johnson guard flashed his range, ball skills and effort level on both ends of the floor. He had 27 points in his team's first matchup on Saturday morning. Both players are going to be dangerous in their sophomore campaigns.
Dertavius Mack Dertavius Mack 6'2" | PF Interlachen | 2023 State FL & | KA Nightmares
The KA Nightmares 15U group battled with a bunch of athletes in place. Against the Georgia Livin' Legends Elite Blue on Sunday, Interlachen pair Dertavius Mack (14 points) and (13 points) were rock solid. Mack is a 6-3 guard who is packed with power, pure ability and crafty finishing ability. Dumas (pictured) is a 5-11 scrappy guard who plays super well alongside Mack, dishing out sweet feeds and pushing the tempo. Two other names to know are also 2023 Interlachen prospects in 6-2 guard Jaden Perry Jaden Perry 6'3" | SG Interlachen | 2023 State FL , a versatile player and 6-2 forward Justin Herring, a core rebounder.
Brigham Rogers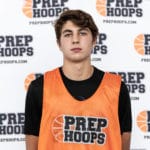 Brigham Rogers 6'9" | PF Blessed Trinity | 2023 State GA | 6-7 | Atlanta AllStars
Having size always benefits your team at any level of basketball, but for the Atlanta AllStars 15U unit, it was a joy seeing Brigham Rogers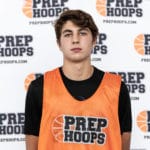 Brigham Rogers 6'9" | PF Blessed Trinity | 2023 State GA dig in deep. The Blessed Trinity Catholic 2023 forward was a defensive standout in a win over the Iron City Huskies on Saturday night. Rogers accounted for seven blocks, has a ton of raw potential on the offensive end as a post player. His trajectory is evident.
Demarreon Baldwin | 6-5 | Iron City Huskies
In the loss to the Atlanta AllStars on Saturday evening, 2023 guard/forward Demarreon Baldwin did his thing for the Iron City Huskies. Generating a team-high 17 points, he was all over the cleanups on tip-backs and boards, drives to the hoops and reliable finishes. Baldwin is a Bessemer City guard who projects to be a major varsity contributor.
Ryan Madonia & Jacob Theil | X-Factor
A lesson learned from this weekend was that X-Factor plays hard at every age level no matter the opponent. In a true battle and X-Factor held on for a 56-53 overtime win over Atlanta Celtics South on Sunday afternoon. 2023 East Lake duo Ryan Madonia and Jacob Theil were as steady as can be. They fought the entire game and never stopped. Madonia, a 6-3 guard is filled with consistent effort and it showed with his 20-point game while Theil, a 6-1 guard recorded 17 points and hit some huge shots down the stretch.
Jonas Duclona | 5-10 | Team Speights
One of the most confident outside shooters I saw in the 2023 class, Jonas Ducolna was part of an impressive crew that the Team Speights 15U employed. Finishing 4-0 and winning the Passion Region Bracket final, Duclona was finding openings on shots and his quick release helps him bury 3's and mid-range jumpers. The Naples guard plays with speed and energy.
Parker Donaldson & Cameron Kelly Cameron Kelly 6'6" | PF Buford | 2023 State GA | Livin Legends Elite Blue
In the loss to the KA Nightmares, two Livin Legends Elite Blue players stood out to me in 2024 guard Parker Donaldson and 2023 forward Cameron Kelly Cameron Kelly 6'6" | PF Buford | 2023 State GA . Donaldson, a 5-10 guard from Cornerstone Christian played up a grade and didn't skip a beat with his seasoned outside touch. He had a team-best 13 points in that game. Kelly, a 6-4 forward and tough nosed athlete had 12 points and was rebounding hard and blocking shots a ton.
14U
Zep Lowery & Jermel Garrett Jr. | Owls Elite
Owls Elite ended the weekend 3-1 and a pair of 2024 prospects were really good. Jermol Garett Jr., a 6-0 Carver guard put up 28 points in a Saturday victory over the KA Nightmares while Zep Lowery, a 5-11 Lanier guard netted 23 points in a win over the Atlanta Nets on Sunday. Both  were highly consistent, playing smart basketball and simply outrunning teams with their conditioning and wheels. 5-6 Park Crossing guard Jovan Wilson was also a joy to watch with his dangerous 3-point shot.
Braeden Lue | 6-5 | Atlanta Nets
In a Sunday win over Rod Howard Select, Braeden Lue was a true standout for the Atlanta Nets. The 6-5 Alexander forward is a big body for his age and he is going to be an instant factor at the varsity level. He had 10 points in the game, showed off his power on the attack and his jumper has a nice touch to it. Lue is going to be really good in due time. Other names to know from this Nets group are Jaiden Glenn, a 5-10 Chapel Hill guard who can fly to the rim and is a leaper and undersized rebounder. Also, Tyler Baldwin, a 5-4 McEachern guard is a pest defensively and someone to keep a close eye on as he grows and matures.
ICYMI:
A-Town Showdown: Day 1 Standouts
A-Town Showdown: Day 2 Standouts
A-Town Showdown: 17U Top Performers (Part 1)
A-Town Showdown: 17U Top Performers (Part 2)
A-Town Showdown: 17U – Playmakers
A-Town Showdown: Saturday's Best Lead Guards Part 1
A-Town Showdown: Saturday's Best Lead Guards Part 2
A-Town Showdown: 17U – Steady Post Players
A-Town Showdown: 17U – Crafty Guards