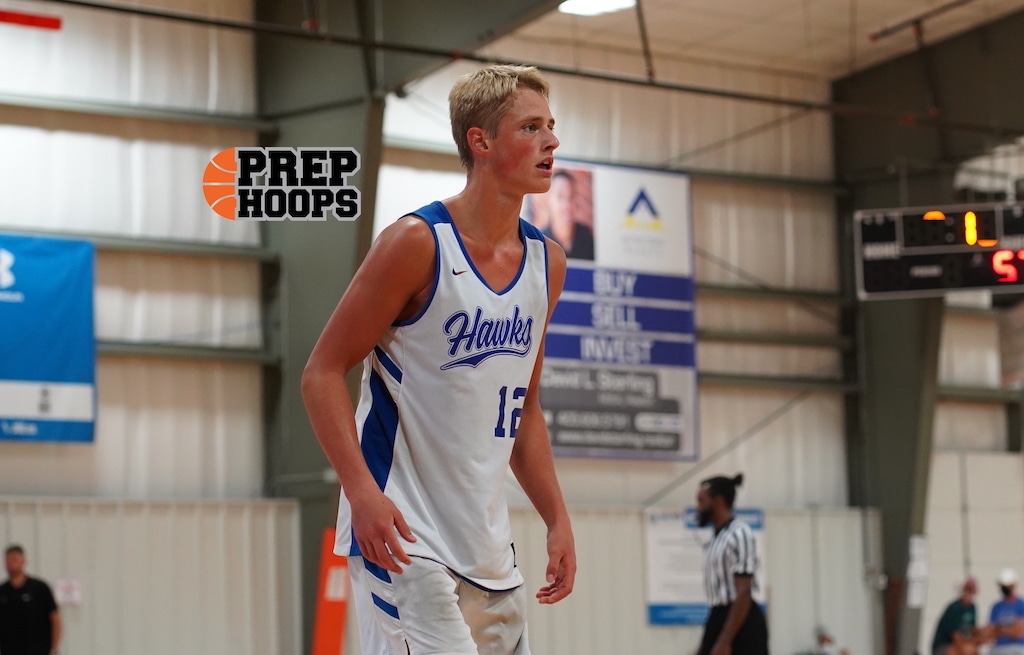 Posted On: 07/8/20 8:14 PM
The players listed below were among the players I was able to see, exclusively, and are listed in no order.
The 6-foot-5-inch sharpshooter has been meteorically one of the state's greatest stock-risers in the abridged grassroots season. Historically an impressive shooter, the improved confidence of Hartloff has made his two-way presence one of the most pervasive in the Oklahoma '21 class.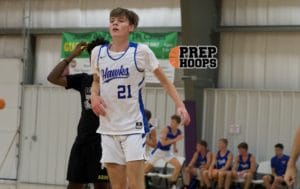 Offensively, it's not quite the same old song-and-dance of wing shooters in the class; while he can hit shots with elite accuracy at the hip of the arch, it is not uncommon to see Hartloff launch — and sink — deep shots from movement. His handle-to-shooting coordination and foot-work are, to some extent, perfected for Hartloff's scoring attack at this point, indicative of the focus he dedicates to his craft. Somehow eclipsing his offensive excellence, however, has been the block party he has hosted all summer. If you watched the Hawks' 17s crew for more than five minutes last weekend, you know exactly what I am talking about. Hartloff has become not only a slide-over rim-protector for Hawks, but he has also wowed with habitual shot-blocking along the perimeter. On a game-by-game basis, Hartloff has erased the anomaly of his defensively so that a half-dozen-block performance has become an average game for him.
At 6-foot-6-inches, Danitschek had all of the skill necessary to score the ball at a high level in OKC.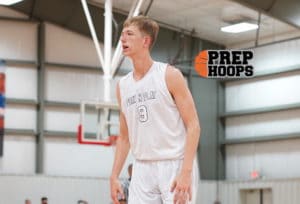 Also a fluid mover, the lanky wing-forward moved with little resistance with the ball in his possession, coordinating his foot-work with a heavy arsenal of multi-level D-I scoring moves; moves, at times, he executed with D-I quality. Though he did not sink every one of those shots, he made a few moves with the ball that reminded me a lot of things of Bryce Thompson Bryce Thompson 6'5" | CG Booker T. Washington | 2020 State #15 Nation OK in the mid-range. With his frame, it just takes more practice within those maneuvers to become an even more frightening scorer. Also a standout defender, Danitschek's uncanny combination of fluidity and size made him a tough task for opposing players on the perimeter and interior.
Franklin showed up in big ways for TBB in arguably its toughest matchup of the weekend: Kansas Pray N' Play.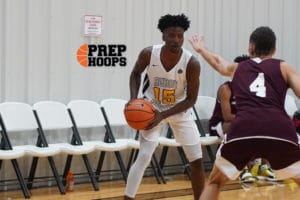 In that game, Franklin knocked down four triples as the home team escaped a narrow show-down with its Kansan alter-ego. Offensively, his contributions from deep accompanied his usual rebound-and-return game that has been invaluable to TBB all summer; and his offensive skills do not really scratch the surface of what he can do. It was also Franklin whom, on a star-studded weekend in OKC, was tasked on numerous occasions with an opposing team's tallest interior or mid-court player, including the aforementioned Danitschek. At a generous 6-foot-4-inches, Franklin starred in limiting the production of opposing forwards using his length and quiet power on the defensive side.
Vande is what the kids would call water from deep. He abused would-be shot-contesters with his candy-like deep-range technique atop his 6-foot-6-inch frame. Also an improved visionary in the full-court, Vande passed the ball well in down-court transition opportunities at the event. With legitimate slashing handles and speed, Vande was among the most capable all-around scorers in the junior division. 
Raul Nunez | Oklahoma Hustle CG | Choctaw '21
Nunez, like the aforementioned Hartloff, has not only put himself on the map this summer but has established himself into best-in-class status as a boost in his stock has been consistent with the boost in his play.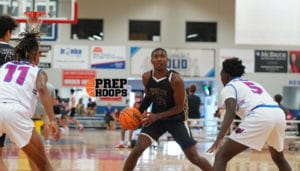 Though I could tell from his film he has always been a talented shooter with a sizable frame, it has been the last month alone that I have witnessed his play-making skill from the dribble personally; I can attest that he is the real deal in that aspect of his game. Splitting on-and-off-ball responsibilities, Nunez was prone to facilitate in the full-court, but once he crossed half-court, it was due time for defenders to adhere to him; players who have been on the receiving end of one of his NBA-range pull-ups know about it. On the drive, his physicality and determination around the rim usually result in points, whether at the line or on the field goal.
On a weekend ripe with inter-state competition, Price seized his opportunity to silence doubters of his improved game. Still working on his on-ball utility, Price often brought the ball up the floor for Hustle and handled pressure with a newfound collectedness that you may not recognize from his corner spot-up usage from previous summers. He also has improved his half-court vision, and his ability to distribute the ball to the bottom has improved. Also tasked with his primary duties — finding and sinking quality shots — Price bombed with at his usual success rate and with his usual fervent zeal on the perimeter. His stretching of defenses with college-range shots allowed his teammates to find more open looks to score in the post or on the interior drive, and he did it with excellent conservation, as well.
A player you will sure hear more of this summer is Turner. The highly-capable guard can occupy any and every role you may need him on the floor. He is a talented, vicious defender; utilizing his powerful frame and sneaky agility, he is nimble when moving laterally and can back-up opposing guards to the mid-court with uncanny adherence.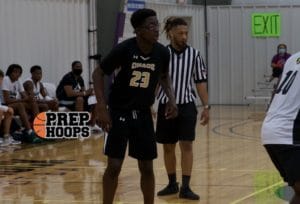 Also a bully-minded defensive thief, Turner can gather steals at a high rate and convert on a difficult finish on the opposite end. And that only scratches the surface of Turner's capabilities; his offensive skills are just as potent on the hard-wood. The heady guard has a knack for drawing defenders near to him before executing a perfectly-placed pass to a cutter that make you wonder how he even saw the availability. As a scorer, he came by enough buckets from rebounding and returning to record a double-double, but his abilities as a perimeter scorer really put him over the top. The mid-range pull-up, euro, hop-step, hesitation and spin are each well-practiced within his arsenal, and I am sure there is even more I have not yet seen from the incoming senior.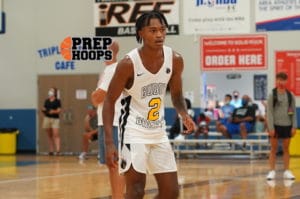 With the two-way presence of Shannon on the floor, it is hard to ever bet against TBB. Though many would point to Pedulla for his zealous offensive skills (and believe me, he's one of the best scorers in the state), it was the unsung play of Shannon who steadied TBB in a seven-game stretch over four days; and his sinking of go-ahead free throws with under four seconds to play against Kansas Praying N' Play was explanatory of the theme of his play. From Drive Nation to Next Page Force to P&P and everything in-between, Shannon's 94-foot defensive tenacity; give-nothing attitude and habitual drive-down-your-throat offensive slashing aggression paced TBB to a 6-1 record against nationally ranked competition over two events.
Braden Weaver | Oklahoma Hustle SG | Bixby '21
Weaver played a prominent scoring role for Hustle with efficient sharpshooting on the catch, while he also made a few contributions on the drive. The 6-foot-1-inch shot with go-to consistency from the corners and wings, and thanks to the scoring excellence of his teammates in collapsing defenses on the drive, the circumstances played in his favor; it was just up to him to sink the shots. His blink-of-an-eye release paired with unprecedented repetition in his technique, Weaver hit shot-after-shot in a 3-0 weekend for Hustle.
Mike Quick Jr. | Oklahoma Wolfpack SG/SF | OnPoint Academy '22
Oklahoma, meet your newest incoming junior prospect: Mike Quick, an exceptionally athletic, bouncy player who will be on your next Overtime highlight before you know it. A Sooner-state newbie from the Big Apple, the appropriately-named Quick was a major play-maker for Wolfpack on both ends.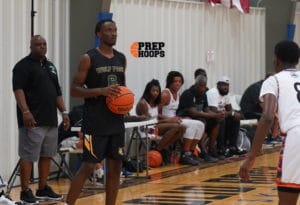 His speed and ability to elevate made for a court-side show for anybody who saw him play last weekend as he was likely to throw down something spectacular on each fast-break opportunity Wolfpack had. I liked him defensively, as well. On that end, he played with straight-out-of-the-Bronx attitude that kept ball-handlers from advancing past him without the ball coming out with them as he was determined to leave his mark on his introductory weekend. He made sure that the tournament will not be the last you hear of him.
Locke showed up in big ways for TBB last weekend. Scoring 18 points in a matchup against Kansas Pray N' Play, Locke's offensive arsenal was on full display, helping TBB escape in a one-point victory on 8-of-12 shooting from the field — and he did it all with zero trips to the line. The East-side sharpshooter was an archer from 3-point range, but it was his one-dribble pull-up that may have been the central catalyst of his success throughout the weekend as it opened the deep shot for him in new ways.
Caleb Leslie | Tulsa Hawks SG | Owasso '22
Leslie led the Hawks' 16s in scoring with 40 total points on the weekend while chiming in for 13 assists. The Owasso-native was fantastic from long-range and even showed off some of his craftiness on the drive, a skill I may have underestimated in him. I did not get to see much of him this weekend, but I can tell you this much from what I have seen this summer: Leslie is the type of player whose accuracy is so potent that he may be giving teams 25 or more on hot nights next season at Owasso.
I was impressed primarily by Roland's resignation to the passing game in the action I saw of his for BTR last weekend. In fact, its the diversity — and the quality of his secondary skills — that keeps impressing me.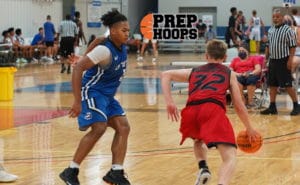 Offensively, he focused on the drive-and-kick, rebounding and off-ball floating to find buckets either for himself or for others. His defensive focus, fostering cohesion for the BTR unit, was clear each time his intuition led him to slide and help, switch, or swipe at the ball. Also utilizing his seemingly endless reservoir of high-energy athleticism, Roland's sizing advantage to opposing guards, mixed with his brute strength and lateral agility made it all-but-impossible for potential scoring guards to get much of anything done with the ball.
A crafty scorer with exceptional hand-work, Owusu utilized a number of his tools on both ends of the floor: primarily, his born gift of excellent athleticism, which he used to convert on contested shots, compete at the rim and gather rebounds for the H&H senior squad. Defensively, it was a combination of his lateral agility and length that allowed the 6-foot-2-inch Moore-native to get stops for his team and turn defense into offense in a hurry.
Chad Milne | H&H Elite SG | Allen '21
A versatile scoring guard with interior tendencies, Milne is a multi-level scorer who provided H&H with a hefty advantage in drawing defenders anywhere within or outside the perimeter to him. Milne's 6-foot-5-inch frame aids him in knocking down shots from deep at a great varsity clip, while his iQ also lends him advantages on the inside-scoring game, particularly in hitting mid-range shots, rebounding-and-returning and even thriving from the pick-and-roll, at times. Milne recorded an 18-point performance to finish the weekend as he helped H&H to an undefeated record. Milne could be a steal for in-state or regional NAIA schools or even some local D-IIs.
Jediah Jones | Next Level Up SG | Union '21
Though I only saw Jones in one game of action, the impact he had for N.L.U was one that could not be ignored. The powerful, athletic shooting guard has a versatile game that makes you wonder why you have not heard more about him until this point. A standout from the 918, Jones sent shockwaves through the gym with his tenacity to elevate at the rim and make plays, while his 3-point game really put him over the top. In the one matchup I saw him, Jones scored 15 points to lead the way for N.L.U. Expect big things from the 6-foot-3-inch prospect from Union this summer and in his senior season.
One of the best prospects in the Kansas '21 class, I am still getting used to Johnson's game after seeing him the past two weekends; that may be because his game is so adaptable.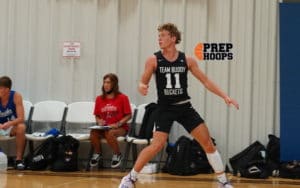 If there is one thing I have gathered from Johnson, it is that he fixates on whichever facet of his game is helping TBBK win games, but that does not mean he does not have other tricks up his sleeve. At the Grind SZN Kickoff, I only got to see one game of his, but a piece of his skill-set that struck me was his shooting — a talent I did not even pick up on in weekends past. You may not realize it, but Johnson is one of the fastest players in the gymnasium on any given weekend, and his ability to control the ball with elite efficiency while maintaining fifth gear helped him to get by defenders and get to the rim.
Gendron has diversified and taken his game to new heights, especially in the interior. The three-range bomber has hit shots this summer with his usual zealous efficiency and opponent-burying fashion, but he has added an inflated benefit to his interior game. He takes defenders to the hole more frequently, drives with a little more intention, and finishes with more physicality than he has in previous summers; also unafraid to put opposing defenders on a highlight reel if they challenge him. Defensively, his abilities to contain ball-handlers and set boundaries on interior forwards bodes well for his recruiting.
Including Scott's pre-weekend showcases at The Circuit in Dallas, he erased any lingering questions about his ability to produce against top-tier competition with shooting accuracy that surely disheartened opponents from five states over seven games.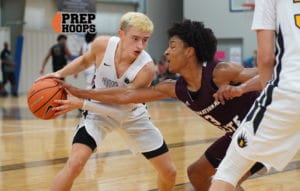 His precision derives from his practice tendencies as he hardly compromises his technique regardless of circumstance, and his team-second 11 points against Drive Nation had to turn some heads in the coaching world. Most impressively was his ability to sink shots in transition. It was a simple equation; rebounder outlets to guard who drives the length of the floor while Scott floats to a spot. That guard drew defenders near him around the rim before dishing to Scott who sank shot-after-shot, time-after-time. The game is that easy when you have a player like Scott.
A prospect with some new eyes upon him, Seat's game has blossomed this summer, and it was hard to deny his upside after the Drive Nation event; but it was impossible after the Grind SZN Kickoff. Seat, whose shooting capabilities have never been in question, has added a new sense of confidence, some swagger, to his game, and it has paid off for him in big ways already.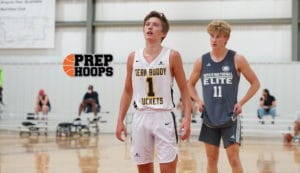 The combination guard can handle on-and-off-ball duties, and after playing against some legitimate competition over seven games, I have no doubt that Memorial coach Shane Cowherd will be utilizing Seat in significant moments next season. He can take over as a scorer, but his competence in handling on-ball pressure and making plays with bigger defenders breathing down his neck that have been the most impressive so far in his junior summer.
Rhett Powell | Ball4Life CG | Summit Christian '21
Wired to score, the 6-foot-3-inch sharpshooter was just having fun at the kickoff, playing loosely as he bombed deep shots at a high percentage from uncanny distances on the floor. Powell also has some floor vision as a tool to help space himself.
Overton, whose first-half has been one of the best in the state, is back for more in his junior grassroots season. In a spectacular showcase offensive impassibility, Overton etched 36 points in the scoring book, benefitting primarily from drawing fouls and sinking free-shots and knocking down triples; he went a perfect 15-of-15 from the charity stripe and added five 3-pointers in that match. The two-way work-horse has a remarkable skill-set, ranging from defensive shut-down abilities in the post to the deep shot to touch around the rim. At his age division, he can legitimately guard the one-through-five effectively, while he can practically play the one-through-five on the offensive end.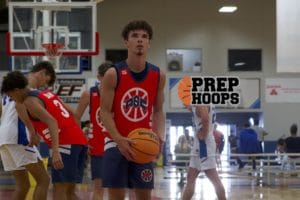 VanDaley, who starred in the grind region last summer, is back for more on his post-senior grassroots season. The grad took on combo roles as an on-ball facilitator and off-ball sharpshooter, and he played both roles to brilliance. He has further honed his bread-and-butter: shooting the basketball. With elite efficiency, VanDaley rarely hit the rim with the green light from deep, but he also used his handle to pull-up from the mid-range, another area of his offensive game that excelled. VanDaley needs to playing somewhere the next time we get to see college basketball.
Josh Jordan | Kansas Pray N' Play SG | Salina South (KS) '21
As far as consistency goes, there may not have been a body in the gym with a more automatic hot-streak than Jordan on Saturday evening against Team Buddy Buckets. In an attempt at a late rally, Jordan refused to miss from deep-range as he buried shot-after-shot-after shot to erase the TBB deficit and even help KP&P to a late lead. As TBB's coaching staff noted, he was a very difficult player to guard, and his stout frame is certainly one of the most college-ready attributes about him.
Austin Smith | Burner U SG | Mustang '22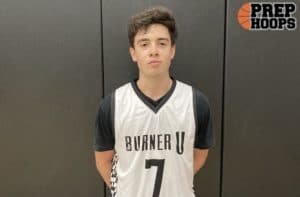 An off-ball shooting specialist, Smith had a 26-point outing against the Tulsa Hawks' 16-and-under squad that was truly a spectacular sight. Whether he just had hot hands or can sink shots like that on a regular basis, I have a feeling he is primed to do some special things this summer with Burner U. During that game, I can not recall him missing from long-range as he hit seven shots from triple-range and converted a floater or two in the short game, as well.