 Posted On: 06/26/20 8:30 PM
The Prep Hoops SoCal staff has spent the last few weeks digging through notes to find all the standout freshmen performers from the 2019-20 season. While it's still too early to put together a fair numerical ranking for these young prospects, we did come up with an 85-player watchlist of guys to keep an eye on over the next three years.
Earlier this week we posted a four-part series of who could potentially crack the top 5-10 spots if we did decide to publish a true ranking, based on first-year performance and long-term potential. Below we take a look at more players to track over the next three seasons.
Martin Gumwel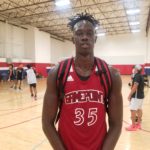 Martin Gumwel 6'10" | C Calvin Christian | 2023 , Calvin Christian - The 6-foot-10 center played at a lower level in San Diego, but his stat line was still impressive nonetheless. Gumwel averaged 17 points, 17.2 rebounds and 2.8 blocks per game last season in leading the Crusaders to 16 wins. Gumwel still has a ways to go from a skill-set standpoint, but improved with each game this past season.
Macarhy Morris Macarhy Morris 5'11" | PG Fountain Valley | 2023 , Fountain Valley - Morris played a key role off the bench for the Barons in their best season in school history. The