 Posted On: 04/13/20 6:06 PM
With the updated 2022 rankings, we will continue to do in depth breakdowns explaining why we ranked who we ranked. Right now, we're going to look at how the rankings are broken down by position. Here's a look at part two of the guards rankings, looking at some of the shooting guards and small forwards in the class.
#10 Davin Cosby Jr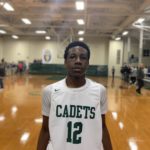 Davin Cosby Jr 6'5" | SG Benedictine College Preparatory | 2023 VA | 6'3" | Benedictine (#32 Overall)
Cosby had a breakout year at Benedictine and continued to get better and better every time that I watched them. A 6'3" off guard with long arms and is likely still growing, Cosby has no conscience from deep as he will let it fly and he can get hot quickly and fill it up from deep. He moves constantly without the basketball and gets set quickly, he has a quick release that allows him to get it off with little space and he's always looking for his next shot.
#9 Jaeden Freeman Jaeden Freeman 6'4" | SF Nansemond Suffolk | 2022 State VA | 6'4" | Nansemond-Suffolk (#31 Overall)
Freeman is a two sport start at Nansemond-Suffolk who missed most of the basketball season with a knee injury but also decided to reclassify to the 2022 class. He's