With the high school season over and still awaiting the beginning of the circuit we thought this would be the perfect time to look back at the best games we saw during the year.  Prep Hoops Illinois scouted 152 high school games during the season.  In this series we look at the 30 best!  Check out Best Illinois HS Games Evaluated Part 1!
Morgan Park vs Whitney Young
This game was the opener of the season.  The top two prospects in the senior class Duke bound DJ Steward and Illini commit Adam Miller would battle it out on the first night of the season.  A unique game with most teams playing in Thanksgiving tournaments that week.  The game was also streamed live nationally on BallisLife.  For Whitney Young DJ Steward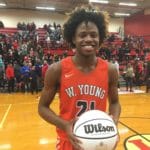 DJ Steward 6'2" | PG Whitney Young | 2020 State #22 Nation IL was fantastic especially in the first half.  Slick scorer dropped 20 points total.  He got help from Tyler Beard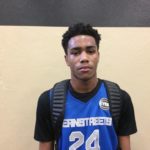 Tyler Beard 6'3" | PG Whitney Young | 2021 #140 Nation VA with 13 points and Jaeshon Thomas who had 10 points.  Top junior power forward Grant Newell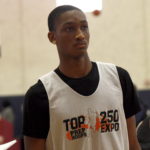 Grant Newell 6'7" | PF Whitney Young | 2021 State IL brought some defensive intensity inside along with his 8 points.  Morgan Park just had too much though.  Their star Adam Miller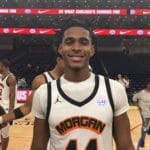 Adam Miller 6'4" | PG Morgan Park | 2020 State #34 Nation IL only scored 9 points, but had the biggest play of the game with a steal late.  made his CPS debut in grand fashion!  The #3 2021 prospect scored 18 points and was all over the boards.  Marcus Watson Marcus Watson 5'11" | PG Morgan Park | 2020 State #131 Nation IL pushed the pace scoring 10 points.  The Morgan Park big men Isaiah Burrell and Anes Davenport brought energy scoring 10 points and 8 points respectively.  Freshman point guard Darrin Ames made noise in his first game as the guard drilled a pair of triples in Morgan Park's win.
Evanston vs Niles Notre Dame
This was one that we had circled from the jump when the season started.  It was for a few reasons.  The first was that these two teams are loaded with 2021 prospects.  Then the second was it was a game that had some edge to it as top 10 junior Louis Lesmond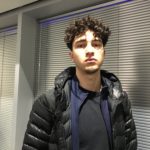 Louis Lesmond 6'5" | SF Niles Notre Dame | 2021 State #163 Nation IL transferred from Evanston who made it to state the year before to join Niles Notre Dame.  Lesmond turned it up late notching 15 points including some deep threes.  Their other stud juniors Anthony Sayles and Troy D'Amico had quiet games with 11 points and 12 points each.  The Evanston 2021s brought their A games especially Blake Peters and Jaylin Gibson.  The D1 duo were fantastic.  Peters drilled threes at a high rate on his way to 22 points.  Gibson stuffed the stat sheet contributing on both ends for 17 points.  Point guard Isaiah Holden got others involved while pushing the pace.  Daeshawn Hemphill had his breakout game scoring 12 points.  Evanston got the win 61-53 in the marquee game on Friday at the Chicago Elite Classic.
Morgan Park vs CBC
The nightcap from Saturday at the CEC was Morgan Park and CBC.  Two of the top point guards in the country battled in Adam Miller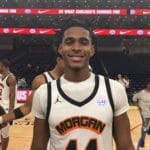 Adam Miller 6'4" | PG Morgan Park | 2020 State #34 Nation IL and Caleb Love.  The North Carolina commit Love started out on fire with three after three looking like he was going to have an absolutely epic evening.  Love slowed down in the middle of the game, but would get it rolling in the fourth again.  He had 26 points. Larry Hughes Jr. had his breakout game for the Missouri squad showcasing his smooth jump shot netting 16 points.  The big 3 had it working for the Mustangs.  Illini commit Adam Miller hit an array of tough jump shots along with a sweet euro step for 21 points.  Wake Forest bound PG Marcus Watson was dynamic getting to the cup all night for 16 points.  Another huge outing for junior Brandon Weston with 25 points playing with his high energy.  There were fights in the stands and almost one on the floor.  Wild way to end the night.  Morgan Park won it close 73-72 in OT.
Niles North vs Joliet West
We always enjoy hitting up the Ridgewood Shootout each year.  This year it was only three games, but the last one was an epic contest.  Both of these were teams that we circled as ones to keep an eye on heading into the season.  Niles North senior guard Aquan Smart had recently jumped into the top 10 in the rankings and was primed to reopen his recruitment.  He had the best game of his career to date that afternoon.  Smart displayed his scoring ability weaving in and out of the defense for buckets at will.  Also looked like Ja Morant with his passing dishing the rock.  He had 37 points and probably double digit dimes.  His junior sidekick Jalen Butler got on the glass for 13 key points.  Joliet West had a senior guard of their own that broke out in Jamere Hill Jamere Hill 6'1" | PG Joliet West | 2020 State IL .  He went to work hitting threes off the bounce and consistently won off the dribble en route to a 26 point outing.  Jaiden Lee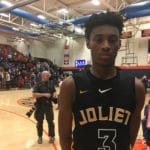 Jaiden Lee 6'4" | SG Joliet West | 2021 State IL proved he is a top tier junior with his versatility netting 21 points.  Football recruit Trent Howland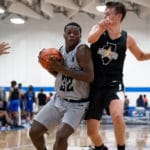 Trent Howland 6'4" | PF Joliet West | 2021 State IL made several huge plays with his physicality on the glass for 14 points.  This one ended up 77-72 in favor of Niles North.
Schaumburg vs Rolling Meadows
We attended this contest on a random week night as we wanted to see two of the premier juniors in the state that are teammates with the Illinois Wolves during the summer battle it out.  They didn't disappoint!  Schaumburg hosted and their Wisconsin commit Chris Hodges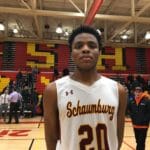 Chris Hodges 6'7" | C Schaumburg | 2021 State #84 Nation IL rose to the occasion.  He showcased an array of post moves and handled it more facing up than we had seen in the past.  Hodges was dominant on the glass as well.  Finished the night with 24 points and 13 rebounds in the Schaumburg victory.  He was helped out by Vaurice Patterson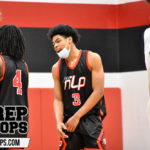 Vaurice Patterson 6'1" | PG Hamilton Heights | 2022 State TN with his sweet shooting from three point land.  The young guard emerged with 14 points.  Top prospect Max Christie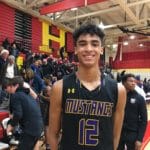 Max Christie 6'4" | SG Rolling Meadows | 2021 State #12 Nation IL was playing in front of an assistant coach from Duke who is one of the top contenders for his services.  The skilled wing got buckets from all three levels showcase his elite game on his way to 28 points.  Schuamburg won it late.