Let's take a look at the Idaho All-Idaho Team for 5A. These are players chosen by coaches from their classification. The vote tallying is done by the Idaho Statesman who initially posted the results. With that being said, let's take a look at the prospects who were deemed as the top players from 5A. Most of these players headline our newly updated 2020 Class Rankings; I believe that the five guys who earned 1st Team honors all have the ability to play D-I basketball with the guys on the 2nd team being anywhere from D-I to D-II level talent:
Idaho Player of the Year: Austin Bolt Austin Bolt 6'4" | PF Borah | 2020 State ID – 6'4 F, Borah 2020
Bolt was a 1st teamer last year where his teammate at the time, and future Eastern Washington University player (Ellis Magnuson), won the player of the year honors. Everyone I talk to tells me that Bolt is the best basketball player in Idaho. He is unique because when you see him initially on the court, you aren't immediately taken aback by his athleticism or height or length. However, if you watch him for a few minutes, you see that he has the greatest intangible that you can find, miles and miles of heart. He works hard every second that he is out there on the court. It shows in his stat line where he put up 19.7 points a game and 12.9 rebounds during his senior campaign. Those are staggering lines for a high schooler in any year; impressively, he has averaged a double-double in three straight years. He helped lead Borah to a second title in as many years. For us basketball fans, it will be an adjustment to not see Bolt on a basketball court. Bolt has signed with Boise State to play football as, most likely, a Tight End. However, like Tony Gonzales or Jimmy Graham, if I was Leon Rice, the head coach of Boise State basketball, I would be trying desperately to get Bolt to play two-ways to start the first few years of his collegiate career. He is an incredible player who had an incredible multi-sport high school career.
Tanner Hayhurst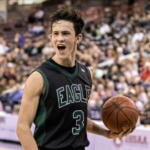 Tanner Hayhurst 6'6" | SG Eagle | 2020 State ID – 6'6 SG, Eagle 2020
Hayhurst is a prototypical wing. He projects as the type of 2-guard prospect that D-I programs are looking for. Hayhurst was offered a scholarship at Idaho St. However, with the coaching change that transpired last year, Hayhurst lost that opportunity. He absolutely has the talent to make a difference for a D-I program. He led 5A in scoring at an impressive 21.1 points per game. He did that while pulling down 7.8 boards a game and distributing 2.7 dimes a game. His stat line pops out, but what isn't shown in those numbers, is his efficiency. Hayhurst gets his 21.1 PPG while shooting at 50.5% a clip. He has the height, athleticism, length, shooting, scoring, and work ethic that programs look for in a prospect.
Colby Gennett Colby Gennett 6'5" | SG Post Falls | 2020 State ID – 6'5 SG, Post Falls 2020
Gennett is one of the top athletes in the state. Add on good height and length, and you get yourself an intriguing prospect. Gennett is poised to have an outstanding career playing for Central Washington University. He has been a starter for the past four years at North Idaho powerhouse, Post Falls. This is his second year in a row receiving All-Idaho First Team honors. Gennett can lock-down a wing player on defense, he can make the deep ball, he has a nice mid-range pull-up, and can put on a show in transition. These things combined to allow him to average 15.6 Points, 6.9 Rebounds, and a stifling 2.7 Steals per game during his senior season.
Townsend Tripple Townsend Tripple 6'7" | PF Rocky Mountain | 2020 State ID – 6'8 PF, 2020 Rocky Mountain
The do everything forward for Rocky Mountain is taking his talents to BYU. There is very little that Tripple cannot do on the basketball court. He is able to stretch the court as well as anyone (puts the ball up at 42% from deep). With his length and height, Tripple is able to get his shot off over almost any defender that sees the court. Lookout in transition, or else Tripple will put you on a poster. Defensively, he wrecks havoc on passing lanes and lures unsuspecting players to try to take shots over the top of him only for Tripple to send the ball back. Tripple is able to do a little bit of everything on the court and should prove to be a valuable addition to the BYU program.
Britton Berrett Britton Berrett 6'4" | SG Rigby | 2020 State ID – 6'4 SG, 2020 Rigby
Excellent 2-guard prospect. Berrett has the skills that you are looking for in a wing player. He is one of the best shooters in the state. If he is open, he is automatic. If he gets a little bit of space, he is going to take the shot. He has good footwork coming off of screen action, has a nice crossover, good mid-range game, and excellent confidence and touch in the lane. With his offensive skill set, it is no surprise that Berrett put up 20.6 points a game. Berrett is planning on doing his LDS Mission for the next two years. However, for a D-I Program, Berrett is someone to try to bring into the fold in a couple of years. Great prospect who should be a great addition to a collegiate program.
Briggs Ranstrom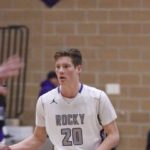 Briggs Ranstrom 6'6" | SF Rocky Mountain | 2020 State ID – 6'7 SF, Rocky Mountain 2020
Isaac Dewberry Isaac Dewberry 6'1" | SG Borah | 2020 State ID – 6'1 SG, Borah 2020
Cooper Frith Cooper Frith 5'10" | PG Rocky Mountain | 2020 State ID – 5'11 PG, Rocky Mountain 2020
Donovan Sanor Donovan Sanor 6'4" | SG Meridian | 2020 State ID – 6'4 SG, Meridian 2020
Caden McLean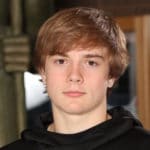 Caden McLean 6'0" | PG Post Falls | 2021 State ID – 6'0 SG, Post Falls 2021