The Dora Falcons took home the Class 1 State Championship over the weekend, winning a hard-fought contest against St. Elizabeth. Platte Valley and Golden City were named Co-3rd Place winners in light of the measures being taken to limit the spread of Covid-19. There were still plenty of memorable performances throughout the weekend. Take a look at the Prep Hoops Class 1 All-Tournament Team from the Show Me Showdown:
Most Outstanding Player: 6'2 Jr Isaac Haney Isaac Haney 6'1" | CG Kickapoo | 2021 State MO | Dora
After ending last season in heartbreak, Dora was on a mission to finish the job led by Missouri State commit Isaac Haney Isaac Haney 6'1" | CG Kickapoo | 2021 State MO . Well, mission accomplished. The Falcons were very impressive in exacting revenge from last year's loss to Jefferson Conception Junction and then dispatched of St. Elizabeth and their formidable front line. Haney was sensational in both games. Against Jefferson, he put up a ridiculous 38 point, 13 rebound performance and followed that up with 25 and 6 in the championship game. The elite shooter proved he is the complete package by using his quickness and elusiveness off the bounce to get in the lane and make plays. He clearly has no hesitation to bang on the boards and was an active and tenacious defender. Haney will return next year with his eyes on a repeat and a very real shot at eclipsing 3000 career points.
All-Tournament 1st Team:
6'2 Jr Isaac Haney Isaac Haney 6'1" | CG Kickapoo | 2021 State MO | Dora
5'11 Jr Mason Luna | Dora
6'7 Sr Ross Struemph Ross Struemph 6'6" | PF St. Elizabeth | 2020 State MO | St. Elizabeth
6'5 Sr Brady Heckemeyer | St. Elizabeth
5'10 Sr Arlo Stump Arlo Stump 5'11" | SG Golden City | 2020 State MO | Golden City
5'8 Jr Trever McQueen | Jefferson Conception
Honorable Mention:
5'11 Jr Rico Singleton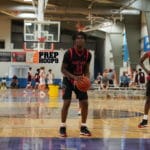 Rico Singleton 6'2" | SG Lift for Life | 2021 State MO | Dora
6'4 Jr Waylon Masters | Dora
6'4 Sr Nolan Heckemeyer Nolan Heckemeyer 6'5" | PF St. Elizabeth | 2020 State MO | St. Elizabeth
6'1 Sr Clayton Merrigan | Jefferson Conception
5'9 Jr Chain Parrill | Golden City