While today's piece is only Part 3 of the Mr. Basketball nominees by region, I think Northeast Ohio had the best collection of collegiate level talent that I have shared so far. As it sits currently, the top 3 2020's in Ohio are on this list, the #1 2021 player and the #5 2022 also sits on this list. Talent wise, NE had plenty of guys that could score the basketball. Today I look at 8 players from that part of the state that had strong enough seasons to compete for Mr. Basketball in 2020.
Kobe Johnson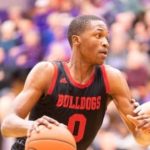 Kobe Johnson 6'4" | SG Canton McKinley | 2021 State #233 Nation OH – Canton McKinley (2021)- The Bulldogs top backcourt threat is one of the best two-way guys you will find on this list. Athletic as heck on the offensive end and long enough to be disruptive on the defensive end. He was a major part of the McKinley run this season and has received offers from multiple low major D1s.
Malaki Branham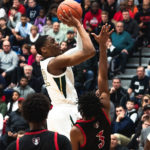 Malaki Branham 6'5" | SG St. Vincent-St. Mary | 2021 State #26 Nation OH – St. Vincent-St. Mary (2021)- Branham is one of two juniors on this list, but is much deserving of the honor. The 6'5 guard is physically imposing and was the main scoring threat for the Irish throughout the season. Able to do almost anything and score at will, Branham has attracted multiple high major looks at the D1 level and is the early favorite to win Mr. Basketball in 2021.
Zach Rasile Zach Rasile 6'0" | SG McDonald | 2020 State OH – McDonald (2020)- Unless you are from Northeast Ohio, you may not have known much about Rasile. A gifted scorer, Rasile averaged 38 points per game this past season and was without a doubt the best player on his McDonald team. He will continue his basketball career at the Division 2 level at West Liberty.
John Hugley– Brush (2020)- The 6'9 senior was the leader of a Brush team that is loaded with underclassmen talent. Able to make an impact in a game with his size and interior presence, Hugley was a mismatch waiting to happen and was arguably the best true post in Ohio in the 2020 class. He is heading to Pitt in the Fall to continue his basketball career.
Grant Huffman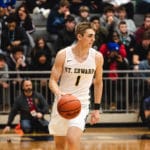 Grant Huffman 6'5" | SG St. Edward | 2020 State #247 Nation OH – St. Edward (2020)- Huffman spearheaded an Eagles team that looked to be the top team in Division I besides Moeller. While he had the lowest scoring average among the players on this list, Grant was a versatile performer that impacted the game in multiple ways beyond scoring. His size as a guard and his overall mentality as a leader was tough to match. Huffman is heading to Davidson this Fall to compete in the A-10 for the Wildcats.
Luke Frazier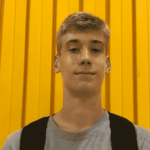 Luke Frazier 6'4" | SG Lake Catholic | 2020 State #226 Nation OH – Mentor Lake Catholic (2020)-  Arguably the best point guard prospect in the state, Frazier was one of two D1 basketball prospects on this Lake Catholic team in 2019-20. The lefty guard has a ton of offensive potential and has shown he can put the ball in the basket consistently and at a high level. He averaged 22 points per game and will be staying in state next year with the Dayton Flyers.
Luke Howes Luke Howes 6'1" | PG Fairview | 2020 State OH – Fairview (2020)- Howes can shoot the ball quite well and had the 2nd highest scoring average on this list at 24 ppg. The 6'1 guard was the main scoring option for Fairview and was considered one of the best players in Division III in the entire state. He will be continuing his playing career at Walsh this Fall.
Josiah Harris Josiah Harris 6'7" | PF Richmond Heights | 2022 State #243 Nation OH – Richmond Heights (2022)- The youngest player on this list, Harris led Richmond Heights with 20 points per game this season. The lone sophomore is very deserving as he is arguably one of the best prospects in NE Ohio in the 2022 class. Owning offers from local universities including Cleveland State and Akron, Harris will likely add to his offer lists as he continues his hig