FIRST TEAM
Player of the Year: Bowen Born Bowen Born 5'11" | PG Norwalk | 2020 State #401 Nation IA (Norwalk)
Stats: 36.4 points, 4.6 rebounds, 4.3 assists, 2.2 steals, 54.5 FG%, 107 3PM, 40.8 3P%, 216-249 FT, 86.7 FT%
Iowa's newly anointed Mr. Basketball wrapped up a fantastic high school career with Norwalk's first state title. He finished the season with 983 points, which ranked third in single season scoring, and 2,494 career points, which ranks sixth all-time. The future UNI Panther is not only an outstanding scorer, but also a dynamic passer and playmaker who does a great job setting his teammtes up. He's a highly efficient lefty scorer who posted 55-41-87 shooting splits this year.
Nick Reid Nick Reid 6'6" | SF Central City | 2020 State IA (Central City)
Stats: 27.9 points, 20.0 rebounds, 2.5 assists, 1.5 steals, 3.0 blocks, 177-232 FT
Reid became just the eighth player in Iowa high school history to put up 2,000 career points and 1,000 career rebounds, doing so in his final high school game. He finished his career with 2,106 points and 1,001 rebounds, and he pulled down 116 more rebounds this season than any other player in the state. He's believed to be the first player in state history to average a 20-20 in a season. Headed to Division II Emporia State.
Sean Peeters Sean Peeters 6'5" | PF Assumption | 2020 State IA (Assumption)
Stats: 23.6 points, 8.4 rebounds, 1.5 assists, 1.6 steals, 59.9 FG%
Peeters was named the MAC Player of the Year, and became Assumption's all-time leading scorer this season. An athletic, 6-5 forward who crashes the glass on both ends of the floor, he can score at will on the block with either hand, using great footwork and touch.
Braxton Bayless Braxton Bayless 6'1" | PG Ankeny | 2020 State IA (Ankeny)
Stats: 22.9 points, 6.6 rebounds, 4.4 assists, 2.0 steals, 54.4 FG%, 147-188 FT
A do-everything lead guard who dominated the state tournament, Bayless can get to the bucket and score at will, and he also excels at getting his teammates involved. A quick lead guard with excellent strength, he doesn't shy away from contact at the rim, and his jumper is improving. He'll likely head to a JuCo for a year or two before becoming a sought-after DI caliber lead guard prospect.
Ty Anderson Ty Anderson 6'7" | PF North Scott | 2020 State #457 Nation IA (North Scott)
Stats: 18.2 points, 9.1 rebounds, 2.7 assists, 1.2 steals, 56.6 FG%, 49.1 3P%, 119-168 FT
One of the best players in North Scott history, Anderson has improved tremendously throughout his four years in Eldridge. The future UNI Panther is versatile on both ends of the floor, and his jumper has turned into a real weapon for him. A skilled lefty who can defend multiple positions and take over games on the offensive end, he'll be a nice player for Ben Jacobson at UNI.
SECOND TEAM
Masen Miller Masen Miller 6'0" | PG Regina | 2020 State IA (Regina)
Stats: 26.2 points, 6.0 rebounds, 4.6 assists, 2.5 steals, 86 3PM
Despite being the focal point of every opposing game plan, Miller still found a way to put up huge numbers for the Regals. The Truman State signee finished second in the state, behind only Born, in made 3-pointers with 86, and he knocked them down at a 39.3% clip. His 26.2 points per game led 2A.
Austin Miller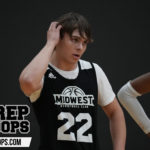 Austin Miller 6'2" | PF North Linn | 2020 State IA (North Linn)
Stats: 23.0 points, 10.8 rebounds, 2.4 assists, 2.9 steals, 1.3 blocks, 69.1 FG%, 124-169 FT
The incredibly efficient forward earned captain honors on the 2A all-tournament team at State, and put together a sensational senior season. He's been the beneficiary of North Linn's pressing style, often getting easy layups in transition, or scoring off of offensive rebounds. But he really expanded his game this season, showing the ability to stretch the floor and knock down 3s, or create his own look. His 124 offensive rebounds were more than 18 teams around the state had this season, and were 10 more than any other player in the state.
Cody McCullough Cody McCullough 6'7" | PF Ankeny Centennial | 2020 State IA (Ankeny Centennial)
Stats: 14.3 points, 11.4 rebounds, 1.3 steals, 2.4 blocks, 71.9 FG%, 142-181 FT
One of the most efficient players in the state, McCullough dominates the glass on both ends of the floor, protects the rim and scores at an extremely high clip. He's got great touch around the rim, an array of post moves and excellent hands. He'll play his college ball at Wayne State.
Alex Van Kalsbeek Alex Van Kalsbeek 6'7" | PF MOC-Floyd Valley | 2020 State IA (MOC-Floyd Valley)
Stats: 18.9 points, 10.0 rebounds, 3.5 assists, 2.0 steals, 3.8 blocks, 87.7 FG%
That 87.7% from the floor is not a typo. The future Northwestern College forward was absolutely dominant on both ends of the floor for the Dutchmen. He put together one of the strongest summers of any player in the state last year, and followed it up with a fantastic senior season.
Easton Darling Easton Darling 6'0" | CG Winterset | 2020 State IA (Winterset)
Stats: 26.2 points, 3.9 rebounds, 3.7 assists, 3.0 steals, 54.1 FG%
Darling was extremely efficient this season, shooting over 54% from the floor and finishing second in 3A in scoring behind only Born. His 70 steals ranked fourth in the class, and he was the headliner for a Huskies team that was among the best in 3A all season. Headed to play Division II ball at Central Missouri.
THIRD TEAM
Xavier Foster Xavier Foster 7'0" | C Oskaloosa | 2020 State #71 Nation IA (Oskaloosa)
Stats: 23.4 points, 9.7 rebounds, 2.5 assists, 3.7 blocks
DaQuavion Walker DaQuavion Walker 6'1" | PG Waterloo West | 2020 State IA (Waterloo West)
Stats: 13.5 points, 3.3 rebounds, 2.5 assists, 2.4 steals
Michael Keegan Michael Keegan 6'4" | SF Beckman Catholic | 2020 State IA (Beckman Catholic)
Stats: 19.4 points, 7.7 rebounds, 3.9 assists, 2.7 steals, 3.3 blocks, 57.0 FG%, 44.1 3P%
Even Brauns Even Brauns 6'9" | PF Iowa City West | 2020 State #253 Nation IA (Iowa City West)
Stats: 15.6 points, 7.4 rebounds, 1.4 assists, 2.3 blocks, 68.6 FG%
Jake Auer Jake Auer 6'0" | PG Valley | 2020 State IA (Valley)
Stats: 17.2 points, 3.9 rebounds, 3.6 assists, 1.7 steals, 72 3PM, 41.4 3P%
FOURTH TEAM
AJ Toigo AJ Toigo 6'0" | PG Indianola | 2020 State IA (Indianola)
Daniel Wright Daniel Wright 6'8" | PF Sergeant Bluff-Luton | 2020 State IA (Sergeant Bluff-Luton)
JD Stout JD Stout 6'0" | SG Keota | 2020 State IA (Keota)
Caleb Delzell Caleb Delzell 6'8" | SF Camanche | 2020 State IA (Camanche)
Jaleque Dunson Jaleque Dunson 6'3" | SF Sioux City East | 2020 State IA (Sioux City East)
Honorable mentions: Micah Johnson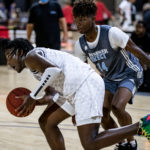 Micah Johnson 6'7" | SF Ankeny Centennial | 2020 State IA , Ankeny Centennial; Sam Kilburg Sam Kilburg 6'0" | PG North Scott | 2020 State IA , North Scott; Josh Ollendieck Josh Ollendieck 6'3" | CG Cedar Falls | 2020 State IA , Cedar Falls; Kole Tupa Kole Tupa 6'4" | SF Center Point-Urbana | 2020 State IA , Center Point-Urbana; Cael Schmitt Cael Schmitt 5'10" | PG Wahlert Catholic | 2020 State IA , Wahlert Catholic; Logan Shetterly Logan Shetterly 5'11" | PG Pella | 2020 State IA , Pella; Tyler Johnson Tyler Johnson 6'4" | SF Norwalk | 2020 State IA , Norwalk; LJ Henderson LJ Henderson 6'2" | SG Camanche | 2020 State IA , Camanche; Josh Van Gorp Josh Van Gorp 6'9" | C Pella Christian | 2020 State IA , Pella Christian; Kiks Rosengarten Kiks Rosengarten 6'7" | PF Wapsie Valley | 2020 State IA , Wapsie Valley; Bryce Coppock Bryce Coppock 5'10" | SG West Sioux | 2020 State IA , West Sioux; Keshawn Christian Keshawn Christian 6'2" | SG Iowa City High | 2020 State IA , City High; Jacob Schockemoehl, Wahlert Catholic; Jack Tiarks Jack Tiarks 6'4" | PF Treynor | 2020 State IA , Treynor; Zane Neubaum Zane Neubaum 6'2" | PG South Central Calhoun | 2020 State IA , South Central Calhoun