FIRST TEAM
Player of the Year: Bowen Born Bowen Born 5'11" | PG Norwalk | 2020 State #401 Nation IA , Norwalk (2020)
Stats: 36.4 points, 4.6 rebounds, 4.3 assists, 2.2 steals, 54.5 FG%, 107 3PM, 40.8 3P%, 216-249 FT, 86.7 FT%
Iowa's newly anointed Mr. Basketball wrapped up a fantastic high school career with Norwalk's first state title. He finished the season with 983 points, which ranks third in single season scoring, and 2,494 career points, sixth all-time in state history. The future UNI Panther is not only an outstanding scorer, but also a dynamic passer and playmaker who does a great job setting his teammates up. He's a highly efficient, lefty scorer who posted 55-41-87 shooting splits this year. 
Sean Peeters Sean Peeters 6'5" | PF Assumption | 2020 State IA , Assumption (2020)
Stats: 23.6 points, 8.4 rebounds, 1.5 assists, 1.6 steals, 59.9 FG%
Peeters was named the MAC Player of the Year, and became Assumption's all-time leading scorer this season. An athletic, 6-5 forward who crashes the glass on both ends of the floor, he can score at will on the block with either hand, using great footwork and touch.
Alex Van Kalsbeek Alex Van Kalsbeek 6'7" | PF MOC-Floyd Valley | 2020 State IA , MOC-Floyd Valley (2020)
Stats: 18.9 points, 10.0 rebounds, 3.5 assists, 2.0 steals, 3.8 blocks, 87.7 FG%
That 87.7% from the floor is not a type. The future Northwestern College forward was absolutely dominant on both ends of the floor for the Dutchmen. He put together one of the strongest summers of any player in the state last year, and followed it up with a fantastic senior season.
Easton Darling Easton Darling 6'0" | CG Winterset | 2020 State IA , Winterset (2020)
Stats: 26.2 points, 3.9 rebounds, 3.7 assists, 3.0 steals, 54.1 FG%
Darling was extremely efficient this season, shooting over 54% from the floor and finishing second in the class in scoring behind only Born. His 70 steals ranked fourth in the class, and he was the headliner for a Huskies team that was among the best in 3A all season. Headed to play Division II ball at Central Missouri.
Keaton Kutcher Keaton Kutcher 6'2" | SG Mount Vernon | 2021 State IA , Mount Vernon (2021)
Stats: 20.0 points, 3.3 rebounds, 3.5 assists, 2.3 steals, 75 3PM
The 6-0 junior guard led the Mustangs in scoring and steals this season, while leading them to one of the best seasons of any team in 3A. A sharpshooter who can fill it up in a hurry, he accounted for over 50% of Mount Vernon's made 3s this year. He currently holds an offer from Western Illinois.
SECOND TEAM
Xavier Foster Xavier Foster 7'0" | C Oskaloosa | 2020 State #71 Nation IA , Oskaloosa (2020)
Stats: 23.4 points, 9.7 rebounds, 2.5 assists, 3.7 blocks
The future Iowa State big man battled through an illness early in the season, but was still highly productive when he was on the floor. Despite playing in just 16 games, he ranked fifth in 3A in blocks with 59.
Kieren Nichols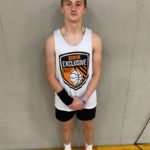 Kieren Nichols 5'11" | PG Knoxville | 2021 State IA , Knoxville (2021)
Stats: 25.9 points, 2.9 rebounds, 4.3 assists, 1.2 steals
A quick 6-0 guard, Nichols' 25.9 points a game ranked third in 3A. He's got a solid mid-range game and can knock down a 3, but he's at his best when he's playing downhill and attacking the rim.
Logan Shetterly Logan Shetterly 5'11" | PG Pella | 2020 State IA , Pella (2020)
Stats: 19.1 points, 2.3 rebounds, 4.8 assists, 2.1 steals
Shetterly paced 3A's highest scoring offense, as the Dutch averaged 76.2 points a game. He led the team in scoring, assists and steals, and is the type of player who can get red hot and carry a team for long stretches at a time.
Daniel Wright Daniel Wright 6'8" | PF Sergeant Bluff-Luton | 2020 State IA , Sergeant Bluff-Luton (2020)
Stats: 15.0 points, 10.2 rebounds, 3.7 assists
The 6-8 forward will play quarterback at Wisconsin, but put together a strong senior year on the hardwood before heading to Madison. He has the ability to score inside and out, and is an extremely gifted passer who sees the floor really well. During the state tournament, he dished out 14 assists against no turnovers while leading the Warriors to a runner-up finish. 
Connor Drew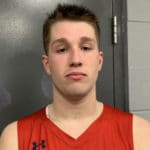 Connor Drew 6'6" | PF Ballard | 2021 State IA , Ballard (2021)
Stats: 18.3 points, 7.5 rebounds, 1.9 assists, 51.9 FG%, 39.8 3P%
A talented 6-6 combo forward, Drew led the Bombers in scoring and rebounding this season, while putting up 52-40-70 shooting splits. His ability to score inside and out make him a difficult matchup. 
THIRD TEAM
Wyatt Wegener Wyatt Wegener 6'2" | PG Algona | 2020 State IA , Algona (2020)
Stats: 17.4 points, 5.9 rebounds, 3.1 assists, 1.7 steals, 51.2 FG%
Karson Sharar Karson Sharar 6'2" | SG Iowa Falls-Alden | 2021 State IA , Iowa Falls-Alden (2021)
Stats: 23.6 points, 7.3 rebounds, 3.0 assists, 2.5 steals, 72 3PM
Luke Rankin Luke Rankin 5'10" | PG Dallas Center-Grimes | 2021 State IA , Dallas Center-Grimes (2021)
Stats: 13.5 points, 2.5 rebounds, 6.4 assists, 3.0 steals
Ryan Blum Ryan Blum 6'4" | SF Glenwood | 2021 State IA , Glenwood (2021)
Stats: 19.7 points, 9.2 rebounds, 2.0 assists, 1.5 steals, 1.6 blocks
Christian Withrow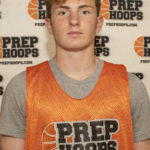 Christian Withrow 6'1" | CG Clear Creek-Amana | 2021 State IA , Clear Creek-Amana (2021)
Stats: 15.9 points, 6.0 rebounds, 2.7 assists, 1.3 steals, 51.6 FG%
FOURTH TEAM
Tyler Johnson, Norwalk (2020)
Tucker Kinney Tucker Kinney 6'4" | SG DeWitt Central | 2020 State IA , Central DeWitt (2020)
Cole Glasgow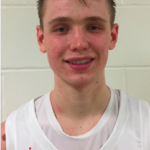 Cole Glasgow 6'3" | SG Dallas Center-Grimes | 2022 State IA , Dallas Center-Grimes (2022)
Kole Tupa Kole Tupa 6'4" | SF Center Point-Urbana | 2020 State IA , Center Point-Urbana (2020)
Andrew Formanek Andrew Formanek 6'6" | PF Clear Lake | 2021 State IA , Clear Lake (2021)
Honorable mentions: Karter Lein Karter Lein 6'0" | SG Carroll | 2020 State IA , Carroll (2020); Connor Bruck, Harlan (2020); Cael Schmitt Cael Schmitt 5'10" | PG Wahlert Catholic | 2020 State IA , Wahlert Catholic (2020); Matthew McDonald, Centerville (2020); Jevin Sullivan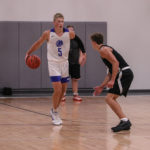 Jevin Sullivan 6'5" | SG North Polk | 2022 State IA , North Polk (2022); Karter Petzenhauser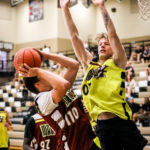 Karter Petzenhauser 6'4" | SG Spencer | 2022 State IA , Spencer (2022); Jake Hull Jake Hull 6'3" | SF Grinnell | 2020 State IA , Grinnell (2020); Matt Ockey Matt Ockey 5'11" | PG Gilbert | 2020 State IA , Gilbert (2020); Bradley Andrews, Charles City (2020); Ashton Hermann, Ballard (2022); Carson Toebe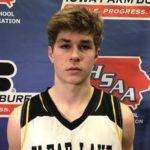 Carson Toebe 6'3" | PG Clear Lake | 2022 State IA , Clear Lake (2022); Jaylen DeVries, Clear Lake (2020); Will Henricksen Will Henricksen 5'11" | SG Marion | 2020 State IA , Marion (2020); Hogan Hansen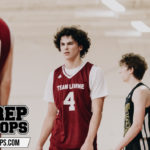 Hogan Hansen 6'3" | SF Waverly-Shell Rock | 2022 State IA , Waverly-Shell Rock (2022); Zach Carr Zach Carr 6'0" | PG Glenwood | 2020 State IA , Glenwood (2020); Noah Erickson, Mount Vernon (2020); Kyle Christy, MOC-Floyd Valley (2020); Jacob Schockemoehl, Wahlert Catholic (2020)