Te Slaa
#1 seed: Boyden-Hull (21-3)
About the Comets: The Comets were the runner-up in 2A last year, losing to North Linn in the championship game. They have a quartet of double-figure scorers, led by sophomore wing Tanner Te Slaa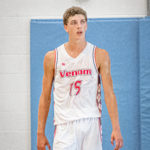 Tanner Te Slaa 6'5" | SF Boyden-Hull | 2022 State IA (17.2), a long, versatile scoring threat who can fill it up in a hurry and from all three levels. He can impact the game in a number of ways with his length and versatility. Versatility is a common theme for Boyden-Hull teams, and this one is no exception. Nearly every player is similar in size, and they're all skilled with the ball in their hands, and each is a switchable defender, which is a big plus in modern basketball. Keyton Moser Keyton Moser 6'2" | SF Boyden-Hull | 2020 State IA (13.5) leads the team in assists and rebounding, while Marcus Kelderman (11.6, 37.5 3P%) gives them some additional perimeter shooting. This group is filled with talented, versatile players, and they're experienced after their run last year, with seven players who saw time in last year's tournament returning, including the top four scorers on this team.
Why they can win it all: They've got versatility across the board, and they play a beautiful style of basketball, sharing the ball extremely well with nobody caring who the leading scorer is on a given night. There isn't one single player you can key in on as a opposing team.
Chances they win it all: 13%. Despite being the top seed, you could've made a strong argument for 3-4 other teams to be the top seeded team in the bracket, making this field extremely balanced. There is no clear cut favorite. 
Schwarte
#2 seed: Treynor (24-1)
About the Cardinals: One of the best 2A programs around, the Cardinals are making their 9th state tournament appearance since the turn of the century. Their only loss this season came against 6A Kansas powerhouse Blue Valley Northwest, and they're one of the best two-way teams in the state, ranking 7th in scoring offense (68.4 points a game) and 8th in defense (43.4). Three players who saw time in the 2A championship game two years ago are the top players on this year's team – Jack Stogdill Jack Stogdill 6'2" | PG Treynor | 2020 State IA (14.8), Jack Tiarks Jack Tiarks 6'4" | PF Treynor | 2020 State IA (16.4) and Jon Schwarte Jon Schwarte 6'10" | C Treynor | 2020 State IA (9.3). Tiarks leads the team in scoring and rebounding, and is a great athlete who is headed to Iowa State to play football. He's explosive, attacks the glass on both ends of the floor and is sure to provide a few highlight reel plays. Stogdill is the team's top perimeter scoring threat, making a team-high 40 3s, while Schwarte is a 6-9 big man who can protect the rim at a high level. 
Why they can win it all: They're experienced with three players who have played in a state championship game before. They have great size and a talented perimeter scoring threat, and good depth and balance looms behind the "Big Three". They've gone 11-0 this year against 2A competition, winning by an average of 28.1 points a game.
Chances they win it all: 13%. As we mentioned with Boyden-Hull, this field is as balanced as I've ever seen. Anyone can win it all.
Hilmer
#3 seed: North Linn (24-0)
About the Lynx: The defending state champions have been absolutely dominant again this season, winning their 24 games by an average score of 85-43, and only one game has been decided by fewer than 19 points (a 6-point win over Dike-New Hartford in the district final). They're 105-2 in their last 107 games. Austin Hilmer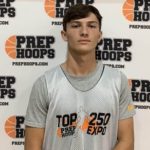 Austin Hilmer 5'11" | PG North Linn | 2022 State IA (18.1), younger brother of all-time great Jake Hilmer, is the straw that stirs the drink for the Lynx, leading the state with 206 assists to go with his 95 steals and over 18 points a game. A lightning quick guard who plays at 100 mph, he's the key piece for their press, and their top decision maker with the ball in his hands. Austin Miller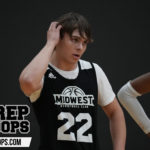 Austin Miller 6'2" | PF North Linn | 2020 State IA (22.8) is the leading scorer and rebounder, a hyper-efficient forward who can do a bit of everything on the floor, and the key experienced piece they have back from last year. Dylan Kurt (12.8) and Gunner Vanourney (8.0) are the other key scorers, and they shoot 40.2% from behind the arc as a team, which leads the 2A field.
Why they can win it all: North Linn just doesn't lose games. It doesn't happen. Their constant pressure eventually wears teams down, and they're the most conditioned team in the state. 
Chances they win it all: 13%. Balanced, balanced, balanced. That's what this state tournament field is. Everyone has a real shot.
C. Delzell
#4 seed: Camanche (21-3)
About the Indians: Camanche entered the season ranked #1 by us at Prep Hoops Iowa, and they have the most talented starting five in the class. They're led by 6-8 point-forward Caleb Delzell Caleb Delzell 6'8" | SF Camanche | 2020 State IA (14.9), a talented playmaker with great size who the Indians can play through. He has 59-41-59 shooting splits and is a major matchup problem for opposing teams. Cameron Soenksen Cameron Soenksen 6'2" | SG Camanche | 2020 State IA (14.0, 55 3PM) is a gunner who has been highly efficient as a shooter this year, shooting 42% from the arc, while Clinton transfer LJ Henderson LJ Henderson 6'2" | SG Camanche | 2020 State IA gives them an extremely athletic slashing wing who can take over games on both ends of the floor. Zach Erwin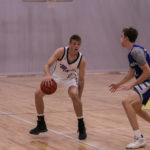 Zach Erwin 6'4" | SF Camanche | 2022 State IA (8.9) is an efficient forward who scores and rebounds, while Jordan Lawrence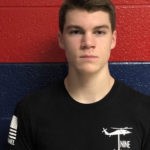 Jordan Lawrence 5'10" | PG Camanche | 2021 State IA (8.9) is one of the best on-ball defenders in the state, and a solid shooter to boot. They also have quality depth, with Zayne Feller (5.3), Mike Delzell (4.4) and Ethan Buckely (2.5). Feller was a starter last season with Lawrence sidelined by injury. When this team is playing at their peak, they're scary and extremely fun to watch.
Why they can win it all: They're the most talented team in 2A, with the best starting five. While they didn't go through the toughest district and substate, they won their postseason games by an average of 38 points a game.
Chances they win it all: 13%. They got an incredibly tricky draw with Round 3 against Monticello in their first game. 
Petersen
#5 seed: Monticello (21-2)
About the Panthers: The Panthers have lost twice this season, a one-point loss to 4A Cedar Rapids Washington, and a 22-point defeat at the hands of Camanche, who they ended up splitting their season series with. A dominant defensive team, they're allowing just 37.8 points a game on the season, and haven't given up more than 45 points in their last 12 games. They've got a lineup that has a lot of experience playing together, as they returned everyone from last year's team, led by 6-6 forward Justin Recker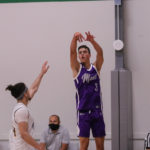 Justin Recker 6'5" | PF Monticello | 2021 State IA (17.0). He runs the floor extremely well, finishes at a high level around the rim and can step out and stretch the floor. Luke Lambert (10.2) leads the team with 103 assists against just 33 turnovers, and he contributes on the glass as well. Tate Petersen (9.8) has had a strong freshman year, leading the team with 49 made 3s, while Connor Lambert (7.6) and Ty Kehoe (6.1) round out the starting five. 
Why they can win it all: They're an outstanding defensive team who is comfortable playing in the slower paced games that usually play out at State. With Recker, they have a player they can give the ball to if they go in a scoring slump, and this group really plays together well.
Chances they win it all: 13%. Round 3 against Camanche is a tough way to open, but win that one, and they can win it all.
B. Coppock
#6 seed: West Sioux (22-2)
About the Falcons: The second highest scoring team in 2A at 82.0 points a game, the Falcons have eclipsed the 100 point mark three times this season, and broken 90 points another three times as well. Their 238 made 3s are far and away the most in the 2A field, and they have four players who have made at least 34 of them. They're led by a dynamic backcourt tandem of Bryce Coppock Bryce Coppock 5'10" | SG West Sioux | 2020 State IA (25.1) and Hunter Dekekrs (21.9), who have combined to make 115 3s. Coppock, a Newell-Fonda transfer, is one of the state's all-time leading scorers and is a talented playmaker and scorer. Dekkers, a future Iowa State quarterback, is the type of player who can score from anywhere on the floor, but is also capable of dominating a game without scoring with his passing, rebounding and defensive abilities. Baxter Walsh Baxter Walsh 6'2" | SF West Sioux | 2020 State IA (11.9) gives them another quality inside-out scoring option, while Kade Lynott (9.4) is a highly efficient interior presence. Mason Coppock (8.6) is the final piece of the puzzle, a 43.4% shooter from deep. They're the worst defensive team in the 2A field, allowing 59.6 points a game, but with the weapons they have on offense, they can usually outscore teams. They had a bit of a late swoon, losing games to Hinton and St. Mary's of Remsen, but both losses were by 3 and shorthanded. They've been great with a full lineup.
Why they can win it all: The Coppock-Dekkers backcourt is dynamic, and this group can put points up in bunches.
Chances they win it all: 13%. They can score in bunches, and if they can show themselves to be a better defensive team, their odds could go up a bit.
#7 seed: Pella Christian (13-10)
About the Eagles: Going through the Little Hawkeye Conference, the Eagles have played the most difficult schedule of any team in 2A. They've posted wins over both Pella and Norwalk, two of the top teams in the 3A field, so they're capable of beating anyone in the tournament. With 6-9 Josh Van Gorp Josh Van Gorp 6'9" | C Pella Christian | 2020 State IA (16.2, 71.0 FG%) in the middle, they have a dominant low-post player who can control the game on both ends of the floor. Dan Jungling Dan Jungling 5'11" | PG Pella Christian | 2020 State IA (12.8) is a quick twitch guard who can score from all three levels, and Jack Vermeer (9.3), Keean Cadwell (9.1) and Ryan Vande Haar (6.3) round out a great starting five. Nobody has played in tougher games all season than Pella Christian has, and they're ready for tournament play.
Why they can win it all: They've played an absolute gauntlet of a schedule, and the 2A tournament may actually be easier than the nightly run through the LHC. With Van Gorp controlling the middle, they'll have a size edge in nearly every possible matchup, and they have good size and versatility across the board.
Chances they win it all: 13%. If they can get by Treynor, they get a track meet against either North Linn or West Sioux. As we've mentioned, any team can win this tournament this year.
#8 seed: Woodward-Granger (22-2)
About the Hawks: The Hawks have the second best scoring defense in the field, allowing just 42.7 points a game. In three postseason wins, they allowed an average of 38 points a game, so they'll be looking to slow games down against the explosive offensive attacks that the rest of the 2A field have to offer. Bryce Achenbach Bryce Achenbach 6'3" | PG Woodward-Granger | 2020 State IA (16.9) is their leading scorer, an efficient guard who shoots 56.7% from the floor and leads the team with 123 assists and 57 steals. Keith Braunschweig (11.1) is their top perimeter shooter, while five other players average between 5.5 and 7.8 points a game, giving them good balance. This group is the antithesis of modern basketball, making just 4.5 3s a game, rather looking to attack the rim and score.
Why they can win it all: They're clearly a strong defensive team, and they're extremely efficient on the offensive end, shooting 53% from the floor as a team. If they're able to dictate the tempo in games and get teams to play their style, they can scrape together three wins.
Chances they win it all: 9%. As with every team in the 2A field, the draw is really difficult. This is as balanced a tournament as I can remember seeing.
Staff Picks
Quarterfinals: Boyden-Hull, Camanche, Treynor, North Linn
Semifinals: Camanche, Treynor
Champion: Camanche
Quarterfinals: Boyden-Hull, Camanche, Treynor, North Linn
Semifinals: Boyden-Hull, North Linn
Champion: North Linn
Quarterfinals: Boyden-Hull, Camanche, Treynor, North Linn
Semifinals: Boyden-Hull, Treynor
Champion: Boyden-Hull
Quarterfinals: Boyden-Hull, Camanche, Treynor, North Linn
Semifinals: Camanche, North Linn
Champion: Camanche