FIRST TEAM
Player of the Year: Austin Miller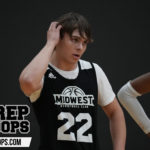 Austin Miller 6'2" | PF North Linn | 2020 State IA , North Linn (2020)
Stats: 23.0 points, 10.8 rebounds, 2.4 assists, 2.9 steals, 1.3 blocks, 69.1 FG%, 124-169 FT
The incredibly efficient forward earned captain honors on the 2A all-tournament team at State, and put together a sensational senior season. He's been the beneficiary of North Linn's pressing style, often getting easy layups in transition, or scoring off of offensive rebounds. But he really expanded his game this season, showing the ability to stretch the floor and knock down 3s, or create his own look. His 124 offensive rebounds were more than 18 teams around the state had this season and were 10 more than any other player in the state had.
Masen Miller Masen Miller 6'0" | PG Regina | 2020 State IA , Iowa City Regina (2020)
Stats: 26.2 points, 6.0 rebounds, 4.6 assists, 2.5 steals, 86 3PM
Despite being the focal point of every opposing game plan, Miller still found a way to put up huge numbers for the Regals. The Truman State signee finished second in the state, behind only Bowen Born Bowen Born 5'11" | PG Norwalk | 2020 State #401 Nation IA , in made 3-pointers with 86, and he knocked them down at a 39.3% clip. His 26.2 points per game led 2A.
Michael Keegan Michael Keegan 6'4" | SF Beckman Catholic | 2020 State IA , Beckman Catholic (2020)
Stats: 19.4 points, 7.7 rebounds, 3.9 assists, 2.7 steals, 3.3 blocks, 57.0 FG%, 44.1 3P%
A 6-5 do-it-all wing, Keegan led the Blazers in scoring, rebounding, steals and blocks, and was second in assists. The Washburn commit scores at a remarkably efficient clip, and with his length and skill, has the ability to impact the game at a high level on both ends of the floor. 
Cooper DeJean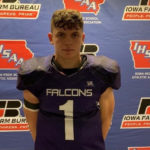 Cooper DeJean 6'2" | CG OABCIG | 2021 State IA , OABCIG (2021)
Stats: 25.6 points, 7.7 rebounds, 4.2 assists, 3.5 steals, 52.0 FG%, 119-166 FT
An explosive junior athlete, DeJean committed to play football at Iowa on March 17. He led the Falcons in every major category, and his 25.6 points per game ranked second in the class, behind only Miller.
Tanner Te Slaa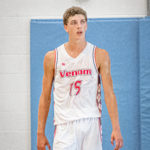 Tanner Te Slaa 6'5" | SF Boyden-Hull | 2022 State IA , Boyden-Hull (2022)
Stats: 17.2 points, 5.3 rebounds, 2.5 assists, 1.5 steals, 53.3 FG%, 45.5 3P%
The best player on 2A's best team, Te Slaa led the Comets in scoring and steals this season, while posting 53-46-82 shooting splits. The 6-4 sophomore wing can impact the game on both ends of the floor with his length and skill. He currently holds offers from South Dakota State and Augustana (SD).
SECOND TEAM
Caleb Delzell Caleb Delzell 6'8" | SF Camanche | 2020 State IA , Camanche (2020)
Stats: 14.6 points, 8.6 rebounds, 2.7 assists, 1.3 steals, 1.7 blocks, 57.4 FG%
The 6-8 do-it-all forward led the Indians in scoring, rebounding and blocks, while also putting up solid assist and steal numbers this season. And he did so at a highly efficient clip. 
Austin Hilmer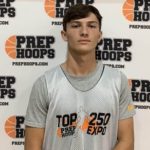 Austin Hilmer 5'11" | PG North Linn | 2022 State IA , North Linn (2022)
Stats: 17.7 points, 3.0 rebounds, 7.9 assists, 3.6 steals
For the fourth straight season, a Hilmer led the state in assists. After three years of older brother Jake doing so, it looks like Austin may have three straight years doing it himself after dishing out 214 assists this year. He helped lead the Lynx to another undefeated regular season before losing to Boyden-Hull in the championship game. 
Bryce Coppock Bryce Coppock 5'10" | SG West Sioux | 2020 State IA , West Sioux (2020)
Stats: 24.6 points, 3.9 rebounds, 4.4 assists, 2.9 steals, 55.4 FG%
Coppock moved from Newell-Fonda and helped pace a potent West Sioux attack that averaged over 80 points a game. His 2,207 career points rank 18th all-time. 
Hunter Dekkers Hunter Dekkers 6'1" | PG West Sioux | 2020 State IA , West Sioux (2020)
Stats: 21.3 points, 8.3 rebounds, 5.0 assists, 1.7 steals, 1.1 blocks, 51.6 FG%
The future Iowa State quarterback put up an impressive final season on the hardwood, leading the high-scoring Falcons in rebounding, assists and blocks, while ranking second behind Coppock in scoring. 
Jack Tiarks Jack Tiarks 6'4" | PF Treynor | 2020 State IA , Treynor (2020)
Stats: 16.4 points, 6.9 rebounds, 2.0 steals, 61.7 FG%
Another future Iowa State football player, Tiarks really emerged as a dominant two-way player this year for the Cardinals, leading the team in scoring, rebounding and steals. A highlight waiting to happen, he's an explosive athlete who can take games over on the hardwood as well.
THIRD TEAM
Zane Neubaum Zane Neubaum 6'2" | PG South Central Calhoun | 2020 State IA , South Central Calhoun (2020)
Stats: 25.2 points, 2.5 rebounds, 2.4 assists, 3.8 steals, 56.8 FG%
Justin Recker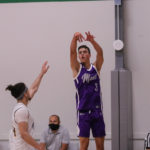 Justin Recker 6'5" | PF Monticello | 2021 State IA , Monticello (2021)
Stats: 17.2 points, 6.3 rebounds, 3.2 assists, 1.3 steals, 1.4 blocks, 63.4 FG%
Anthony Potthoff Anthony Potthoff 6'2" | SG Van Meter | 2020 State IA , Van Meter (2020)
Stats: 18.2 points, 5.5 rebounds, 1.8 assists, 51.5 FG%
Keyton Moser Keyton Moser 6'2" | SF Boyden-Hull | 2020 State IA , Boyden-Hull (2020)
Stats: 13.5 points, 5.5 rebounds, 3.1 assists, 1.2 steals, 52.7 FG%
Lucas Lorenzen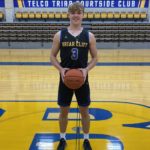 Lucas Lorenzen 6'4" | SF Okoboji | 2022 State IA , Okoboji (2022)
Stats: 22.5 points, 12.0 rebounds, 1.3 assists, 1.1 steals, 52.6 FG%, 43.8 3P%
FOURTH TEAM
Camden Schroeder, East Sac County (2021)
Blake Chance Blake Chance 6'4" | PG Albia | 2021 State IA , Albia (2021)
Curran Ingram Curran Ingram 6'2" | SG Des Moines Christian | 2020 State IA , Des Moines Christian (2020)
LJ Henderson LJ Henderson 6'2" | SG Camanche | 2020 State IA , Camanche (2020)
Josh Van Gorp Josh Van Gorp 6'9" | C Pella Christian | 2020 State IA , Pella Christian (2020)
Honorable mentions: Bryce Achenbach Bryce Achenbach 6'3" | PG Woodward-Granger | 2020 State IA , Woodward-Granger (2020); Cameron Soenksen Cameron Soenksen 6'2" | SG Camanche | 2020 State IA , Camanche (2020); Jack Stogdill Jack Stogdill 6'2" | PG Treynor | 2020 State IA , Treynor (2020); Dan Jungling Dan Jungling 5'11" | PG Pella Christian | 2020 State IA , Pella Christian (2020); Dane Fuller Dane Fuller 5'10" | CG Dike-New Hartford | 2021 State IA , Dike-New Hartford (2021); Jamison Helmers Jamison Helmers 6'0" | CG Okoboji | 2020 State IA , Okoboji (2020); Jonah Blum, Osage (2020); Ryan Hurd Ryan Hurd 6'7" | SF Cherokee | 2020 State IA , Cherokee (2020); Bryce Phelps Bryce Phelps 6'2" | PG Denver | 2021 State IA , Denver (2021); Kyler Matthias Kyler Matthias 6'2" | CG Denver | 2021 State IA , Denver (2021); Jayden Mackie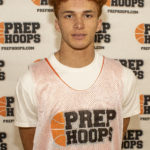 Jayden Mackie 6'2" | PG Aplington-Parkersburg | 2022 State IA , Aplington-Parkersburg (2022); Ben Dunlap Ben Dunlap 6'3" | SF Emmetsburg | 2021 State IA , Emmetsburg (2021); Aaron Graves Aaron Graves 6'5" | PF Southeast Valley | 2022 State IA , Southeast Valley (2022)