FIRST TEAM
Player of the Year: Trey Shearer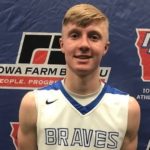 Trey Shearer 5'10" | PG Montezuma | 2021 State IA , Montezuma (2021)
Stats: 25.2 points, 3.8 rebounds, 5.1 assists, 2.4 steals, 61.6 FG%, 43.7 3P%, 83.3 FT%
The most dynamic player in 1A basketball, Shearer helped lead the Braves to a third place finish this season and showed his ability to impact the game on both ends of the floor, ranking among the top 5 in scoring, top 10 in assists and top 25 in steals in 1A, all while posting absurd 62-44-83 shooting splits. The Truman State commit is shifty with the ball in his hands, a gifted passer and a knockdown shooter from anywhere on the court, who is always in complete control of the game. 
Nick Reid Nick Reid 6'6" | SF Central City | 2020 State IA , Central City (2020)
Stats: 27.9 points, 20.0 rebounds, 2.5 assists, 1.5 steals, 3.0 blocks, 177-232 FT
Reid became just the eighth player in Iowa high school history to put up 2,000 career points and 1,000 career rebounds, doing so in his final high school game. He finished his career with 2,016 points and 1,001 rebounds, and he pulled down 116 more rebounds this season than any other player in the state. Headed to Division II Emporia State.
Angelo Winkel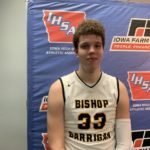 Angelo Winkel 6'9" | C Bishop Garrigan | 2021 State IA , Bishop Garrigan (2021)
Stats: 18.7 points, 10.0 rebounds, 2.3 assists, 1.7 blocks, 58.4 FG%
The 6-9 power forward was a dominant force on both ends of the floor all year for the Golden Bears, helping lead them to their first state championship game appearance. While they finished runner-up at State, his play was strong enough to earn him captain honors on the all-tournament team.
Kiks Rosengarten, Wapsie Valley (2020)
Stats: 19.0 points, 12.3 rebounds, 2.4 blocks, 52.7 FG%
The most important player on the state champion Warriors, Rosengarten was a walking double-double throughout the season for Wapsie Valley, and his toughness and physicality really set a gritty tone for his team. A skilled lefty with good touch around the rim and great hands, he capped off a great career with the school's first state title.
JD Stout JD Stout 6'0" | SG Keota | 2020 State IA , Keota (2020)
Stats: 29.1 points, 3.7 rebounds, 2.9 assists, 1.8 steals, 55.4 FG%, 65 3PM, 84.7 FT%
Stout finished second behind only Bowen Born Bowen Born 5'11" | PG Norwalk | 2020 State #401 Nation IA in scoring this season, pouring in over 29 points a game for the Eagles. He has really developed his game over the course of his high school career, turning himself from almost strictly a 3-point specialist into a really strong all-around scoring threat. 
SECOND TEAM
Kaleb Cornilsen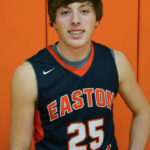 Kaleb Cornilsen 6'5" | PF Easton Valley | 2021 State IA , Easton Valley (2021)
Stats: 20.2 points, 10.0 rebounds, 2.9 steals, 59.0 FG%
The 6-5 junior forward was the most important player for an Easton Valley team that entered the postseason undefeated, averaging a double-double on the season. He does a majority of his damage around the rim, showcasing good footwork and soft touch around the rim, but he has also shown an improved face-up game, with the ability to step out to about 15 feet and comfortably knock down jumpers. 
Braden Gibbons Braden Gibbons 5'10" | PG Madrid | 2020 State IA , Madrid (2020)
Stats: 27.5 points, 3.3 rebounds, 7.6 assists, 2.2 steals, 51.8 FG%, 71 3PM, 180-227 FT
A 5-10 senior lead guard, Gibbons stuffed the stat sheet during his four years at Madrid. He finished the year ranked third in 1A in scoring, and led the class in assists.
Alex Koppes, Springville (2021)
Stats: 19.8 points, 4.3 rebounds, 3.4 assists, 3.6 steals, 53.8 FG%, 44.9 3P%
Koppes was the leading scorer of a Springville team that made their first state tournament appearance since 1975, averaging nearly 20 points a game, and stuffing the stat sheet along the way. In addition to leading the Orioles in scoring and steals, he was third on the team in both rebounding and assists, and will be the focal point of a Springville squad that returns their top three scorers, and four starters, next season.
Noah Beck Noah Beck 5'9" | PG BGM | 2020 State IA , BGM (2020)
Stats: 23.6 points, 5.8 rebounds, 5.9 assists, 5.8 steals, 50.6 FG%, 70 3PM
Beck, a 5-9 lead guard, led his team in scoring, rebounding, assists and steals this season. He was the only Bear to average in double figures, and he did so with great efficiency numbers. 
Jackson Louscher Jackson Louscher 6'2" | CG South O'Brien | 2020 State IA , South O'Brien (2020)
Stats: 21.4 points, 6.1 rebounds, 4.2 assists, 55.7 FG%, 157-194 FT
Louscher led the Wolverines in scoring, rebounding, assists and steals, and was among the class leaders in both free throws made and attempted. 
THIRD TEAM
Nik Coble, WACO (2020)
Stats: 14.6 points, 13.3 rebounds, 5.0 assists, 1.8 blocks, 60.3 FG%
Zach Huff Zach Huff 6'2" | SG Don Bosco | 2020 State IA , Don Bosco (2020)
Stats: 23.0 points, 6.0 rebounds, 2.9 assists, 1.6 steals, 76 3PM, 40.6 3P%
Kayden Ames, West Fork (2021)
Stats: 14.0 points, 3.3 rebounds, 1.6 assists, 1.6 steals, 70 3PM, 40.7 3P%
Trey Baker, Martensdale-St. Mary's (2021)
Stats: 16.7 points, 7.9 rebounds, 1.9 assists
Spencer Schorg Spencer Schorg 6'1" | PG St. Mary's, Remsen | 2020 State IA , Remsen St. Mary's (2020)
Stats: 16.5 points, 4.0 rebounds, 3.2 assists, 2.1 steals, 40.7 3P%
FOURTH TEAM
Chett Helming Chett Helming 6'4" | SF Lake Mills | 2020 State IA , Lake Mills (2020)
Dashawn Linnen, Lake Mills (2020)
Jessen Weber, Easton Valley (2020)
Jakob Washington, West Fork (2021)
Taurice Grant Taurice Grant 5'11" | PG Meskwaki Settlement School | 2021 State IA , Meskwaki Settlement (2021)
Honorable mentions: Brennan Sefrit Brennan Sefrit 5'10" | PG Bedford | 2020 State IA , Bedford (2020); Cole Damman, Baxter (2020); Nathan Moeller Nathan Moeller 6'4" | SF Prince of Peace | 2020 State IA , Prince of Peace (2020); Gage Fry, Grand View Christian (2020); Creighton Nelson, Exira-EHK (2020); Isaac Ihnen Isaac Ihnen 6'1" | SF Harris-Lake Park | 2020 State IA , Harris-Lake Park (2020); Grant Swanson Grant Swanson 6'4" | PF New London | 2020 State IA , New London (2020); Blaise Porter, New London (2023); Cole Watts Cole Watts 5'10" | SG Montezuma | 2021 State IA , Montezuma (2021); Eddie Burgess, Montezuma (2022); Keegan Edwards, Lone Tree (2020)