The Spring signing period is quickly approaching. By many metrics, this has already been a tremendous year for local scholarship players, with over 10 players receiving basketball scholarships. Looks like the well's not dry, as there are still several worthy prospects available throughout the state. In this article, PH takes a look at some of the top remaining unsigned players.
Anthony Hunter Anthony Hunter 5'11" | PG Durango | 2020 State #432 Nation NV 5'11 PG Durango (#6PHN) – Hunter already has a ton of offers. If you're looking for a top-notch on-ball defender, that can create his own offense, then Hunters your guy. Good quickness and overall foot speed, combined with run and jump athleticism. Low to Mid-major guy that can be a difference-maker in the correct program.
Dominique Ford Dominique Ford 6'2" | SG Desert Oasis | 2020 State #455 Nation NV 6'2 SG Desert Oasis (#7PHN) – He has one offer that I know of. Ford is a big-time scorer that can get off his own shot or space the floor. I'm a big fan of guys that carried the scoring load for their high school teams, despite seeing double and triple teams. At the next level, facing single coverage and having players running at him, I could see Ford becoming a double-digit scorer early in his collegiate career.
Braden Lamar Braden Lamar 6'5" | SF Bishop Gorman | 2020 State NV 6'5 SF Bishop Gorman (#9PHN) – Role player on a Championship dynasty. We'll never know how many points Lamar would've averaged in high school as a featured player. What we do know is that he has the skill set to be successful at the college level. High IQ 6'5 athlete, that can space the floor. Lamar is the prototypical wing in today's collegiate game.
Ray Daniels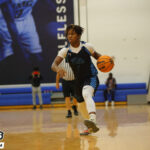 Ray Daniels 6'6" | SF Somerset Academy | 2020 State NV 6'6 SF Somerset Loose (#19PHN) – SLEEPER. Dainels has the frame and skill set to be a tremendous college player. Electrifying R&J athlete with a good basketball IQ. His best trait is that despite being an effective scorer, he's an unselfish player that generally enjoys making plays for teammates.
Noah Mason Noah Mason 6'5" | SF Desert Valley Prep | 2020 State NV 6'5 SF Desert Valley Prep (#20PHN) – I don't have all the info on Mason, but I know a player when I see one. Sniper with a mature frame. Good athlete with the lateral quickness to be a solid wing defender at the next level.
Jaxson Pillich Jaxson Pillich 6'4" | SF Trinity International | 2020 State NV 6'4 SF Trinity (#24PHN) – I love Pillich's game. He plays hard, downhill and with great explosion. Playing alongside Daishen Nix Daishen Nix 6'5" | PG Trinity International | 2020 State #13 Nation NV makes any player nearly two times better, however, I believe that Pillich's frame and R&J ability is perfect for the collegiate level.
Elijah Jackson Elijah Jackson 6'0" | PG Churchill County | 2020 State NV 6'0 PG Churchill County (#28PHN) – The two-time state champion is one of the more intriguing prospects available. Go watch him in person, and then make your judgment. Tempo changing PG that effects the game in a variety of ways. Special athlete, who always seems to go as fast or as high as needed to make the play. Doesn't have a dominant skill, however, he's good at everything, he can shoot it, has a quick first step, and understands P&R basketball. Reminds me of a taller, less athletic version of Nate Robinson. 
IG:BruceNevadaPrepHoops