Another great high school season is in the books in Idaho. We will be going through some of the standout players from the tournaments of the various divisions throughout the week. Today, we are going to be looking at the 5A standouts. The top players in the top division are truly elite prospects.
Austin Bolt Austin Bolt 6'4" | PF Borah | 2020 State ID – 6'4" F, Borah 2020
Talk about the perfect ending to a career. In his final game at Borah, Bolt went off for 35 points and 6 rebounds for the back-to-back 5A State Champion Lions of Borah High. After the championship game, Coach McLean from Borah's opponent, Post Falls, got on the microphone and announced to a packed arena that he has coached against future NBA players and Lottery picks, but he had never coached against a player who could influence a game like Bolt. Bolt has already committed to Boise State to play football as either a tight end or receiver joining a long line of elite basketball players to focus on football. He was the best player through the tournament playing with reckless abandon, he scored at will in the post, grabbed rebounds, led fast breaks, finished plays through contact, and locked-in defensively against opposing big men. Through the tournament, Bolt averaged a staggering 24.3 points and 9.3 rebounds a game. It is incredible to think that Bolt is even better at football. Bolt is one of the best basketball players in the state and should be an excellent addition to Boise State. 
Colby Gennett Colby Gennett 6'5" | SG Post Falls | 2020 State ID – 6'5" F, Post Falls 2020
In my humble opinion, Gennett is the best collegiate prospect in the state. He had stated earlier in the season that he was not going to commit to a school until after his high school career had ended. If I were a D1 recruiter, I would be working incredibly hard to get Gennett to my program. He was the most athletic player at the tournament. Using that athleticism and his disruptive length, he was able to defend multiple positions. Offensively, he can attack the rim against any player in the state. He utilizes the rim to create scoring opportunities. His greatest offensive strength is attacking the lane, but he isn't limited to that as he has the ability to knock-down shots from beyond the arch. He put up a 16-7 stat-line during the tournament. Gennett is an elite prospect to keep an eye on as he makes his college commitment decision.
Briggs Ranstrom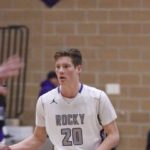 Briggs Ranstrom 6'6" | SF Rocky Mountain | 2020 State ID – 6'6" F, Rocky Mountain 2020
The Idaho State commit proved why he is considered one of the top players in the state. He can do it all. He can run the floor, he can shoot from deep, he can score in the post, he can defend multiple positions. Versatility is the name of Ranstrom's game. His combo of length, height, athleticism, and potential will serve him well at the D-1 level. Ranstrom finished the 5A tournament averagins 12.3 points and 3.7 rebounds per game.
Tanner Hayhurst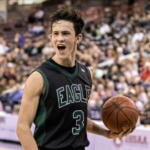 Tanner Hayhurst 6'6" | SG Eagle | 2020 State ID – 6'6 G, Eagle 2020
Hayhurst is the best pure scorer in the state. He has college 3-point range. His mid range pull-up jump shot off of drives is next level already. He can finish with a combination of strength and creativity around the hoop. With his size and skill set, Hayhurst has the ability to be a D1 player. Over the course of the weekend, Hayhurst put up an impressive line of 20.7 points and 7.7 rebounds. It cannot be emphasized enough, scoring is his calling card. He can score in isolation, he can score on catch-and-shoots, and he can score in transition. Offensively, there isn't much that Hayhurst cannot do.
Townsend Tripple Townsend Tripple 6'7" | PF Rocky Mountain | 2020 State ID – 6'8 F, Rocky Mountain 2020
Tripple is a special talent for a big man. Offensively, he is an absolute knock-down 3 point shooter. He can post up and score down low using his length and athleticism. Speaking of athleticism, when he gets out on the fast break, he can bring the house down with his ability to finish with authority. For a program looking for a unique skill set in a big man, look no further than Tripple. He is long, lean, and talented. He will need to add some pounds if he wants to play as a 4 at the next level. However, he has the skills that you would look for in a stretch-four. During the tournament, Tripple averaged 12.3 points and 6 rebounds a game. The five senior 5A players who have been mentioned, Bolt, Gennett, Ranstrom, Hayhurst, and Tripple are all capable of being D1 basketball players.
Caden McLean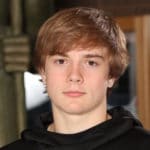 Caden McLean 6'0" | PG Post Falls | 2021 State ID – 6'0 G, Post Falls 2021
McLean might be the best 3-point shooter in the state (though, Tanner Hayhurst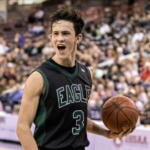 Tanner Hayhurst 6'6" | SG Eagle | 2020 State ID might have something to say about that). McLean is the most improved player that I have seen this year. From when I saw him on the opening day of the Post Falls season to the the 5A championship game, the junior guard has grown by leaps and bounds. He has nearly unlimited range, a beautiful shot, and can score off of screens and set plays. He is able to use that deep threat to attack the hoop. He is a finesse player that makes the right decisions when he is on the court (the classic result of being a coaches son). During the championship game, McLean was the best player for Post Falls in the second half. Caden McLean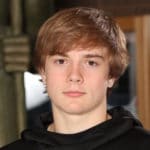 Caden McLean 6'0" | PG Post Falls | 2021 State ID will look to improve upon and lead another dangerous and talented Post Falls squad in 2021.
Isaac Dewberry Isaac Dewberry 6'1" | SG Borah | 2020 State ID – 6'1 G, Borah 2020
Speaking of that 5A championship game, Dewberry was a force to be reckoned with. In a game where Bolt had 35 points, Borah would have lost had Dewberry not stepped up to score 19 points and grabbed 9 rebounds while being tasked with slowing down Colby Gennett Colby Gennett 6'5" | SG Post Falls | 2020 State ID during the second half. Dewberry had a special night to end his basketball career at Borah High School
Honorable Mention:
Alex Horning Alex Horning 6'5" | PF Post Falls | 2021 State ID – 6'5 F, Post Falls 2021
Cooper Frith Cooper Frith 5'10" | PG Rocky Mountain | 2020 State ID – 6'0 G, Rocky Mountain 2020
Brody Rowbury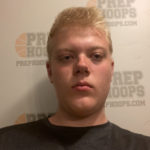 Brody Rowbury 6'11" | C Meridian | 2021 State ID – 6'10 C, Meridian 2021
Kolton Mitchell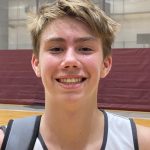 Kolton Mitchell 5'11" | PG Lake City | 2023 State ID – 5'11 G, Lake City 2023
Britton Berrett Britton Berrett 6'4" | SG Rigby | 2020 State ID – 6'4 G, Rigby 2020
Cole Rutherford Cole Rutherford 5'11" | PG Post Falls | 2021 State ID – 5'11 G, Post Falls 2021
Donovan Sanor Donovan Sanor 6'4" | SG Meridian | 2020 State ID – 6'4 G, Meridian 2020
Congrats again to Borah High School on another great season and their state championship.