The first week of the State Playoffs are complete and we are looking ahead to this Saturday and the day-long fight that is Regionals. Today, we take a look at the matchups in the 3A Regionals in preparation for this weekend's games.
HOST: South Bend Washington
Game 1: Hanover Central vs. Mishawaka Marian
Game 2: Hammond vs. Western
Regional Notes: This isn't one of the strongest Regionals across the state, but there are some quality teams featured in this Regional.  Mishawaka Marian comes in at 21-4 with only two losses since Christmas. These losses were by 3 at Hamilton Southeastern and by 5 in overtime against Culver Academy, both 4A powers.  They had a very tough Sectional having to beat South Bend Washington and South Bend St. Joseph to just make the Sectional finals. Now they're here with momentum and confidence. However, Hanover Central is the team with the best record and has been able to shut some teams down on the defensive end this season.  Hammond should be able to get past the underdog, Western, but the question is if they have enough firepower to get past Mishawaka Marian.
Biggest Surprise To Get Here: Western.  They are the only non-20 win team in this Regional, but they are on a 5 game winning streak after their 3 game losing streak at the beginning of February.  Western plays a fairly weak schedule with Kokomo and Logansport as their only 4A competition, so their 17 win season doesn't seem as impressive as some others.  However, they were able to run the table in the Sectional, and now they look to carry the momentum this weekend.
My Prediction: The pick here is Mishawaka Marian but they could be surprised.  Hanover Central shouldn't pose much of a problem for Marian as Western should not pose a problem for Hammond.  However, the nightcap is going to be interesting. I give Mishawaka Marian the edge, but this Hammond squad has beat some tough competition this season with wins over Chesterton, Munster, and even North Central.  Don't be surprised if Hammond wins the nights in a thriller on Saturday night.
HOST: New Castle
Game 1: Norwell vs. NorthWood
Game 2: Delta vs. Leo
Regional Notes: This Regional produced some of the most competitive Sectional final games of the season with three of the four decided by a combined 8 points.  Overall, the favorites all squeaked by and set up a very intriguing Regional. Norwell comes in with a 22-2 record with losses at Homestead and at Mishawaka Marian on the season.  Delta is 20-4 and comes in on a 9 game winning streak. Leo comes in at 19-7, but they have won 11 of 12, so they are hot at the right time. NorthWood has won some big games down the stretch, but they are no doubt the underdog in this packed Regional.
Biggest Surprise To Get Here: The biggest surprise was Leo. Although they are a very good team, they had Fort Wayne Bishop Luers in their Sectional.  Now, this first round Sectional game was more of a coin flip than anything else, but the rest of the Sectional was no cakewalk for the Lions. They earned their way here, and they are ready to show that.
My Predictions: The winner here is really completely up in the air.  Norwell should be able to get past NorthWood, but they have won some big games this season.  Delta and Leo is more of a coin flip game as both of these teams are hot at the moment and playing very good basketball.  I'm going with Delta, but if Leo can shut down Brady Hunt Brady Hunt 6'6" | SF Delta | 2021 IN , they'll have a good shot. Norwell against the winner of that game will be one of the top Regional finals in the state.  Will Geiger Will Geiger 6'6" | PF Norwell | 2020 State IN will be the key for Norwell to earn them their first Regional title since their defeat in state in 2012.
HOST: Greencastle
Game 1: Danville vs. Beech Grove
Game 2: Brownstown Central vs. Brebeuf Jesuit
Regional Notes: This Regional at Greencastle is one that featured several competitive Sectionals last week.  Danville comes in as the favorite with a 22-4 record and all 4 losses coming to 4A foes. Beech Grove comes in off a dominating performance at Indian Creek to defeat the hosts in the Sectional finals.  They have also won 7 of their last 8, so they're playing well at the right time. Brebeuf had a really tough Sectional, but they were able to pull it off with their seventh win in a row. Brownstown Central is definitely the underdog, but they got here with some tough wins over Brown County and Northview.  If things fall their way, the cinderella story could continue.
Biggest Surprise To Get Here: As mentioned above, Brownstown Central is no doubt the biggest surprise.  They come in at #56 in the Sagarin rankings, and they entered Sectionals with an 8-15 record, but they were able to pull out a 5 point win over Brown County.  Also, they benefitted from an Edgewood upset over Northview. They were then able to upset Edgewood on their home court by a point. It's going to be a tough road to continue to win, but it's postseason basketball in Indiana.  We've seen crazier stuff.
My Predictions: The pick here is Danville. Not sure anyone would be surprised by this as they have yet to lose to a team lower than 4A this season. At 22-4, Beech Grove is definitely a winnable game, and they beat Brebeuf Jesuit by 21 points during the regular season.  With Dillon Ware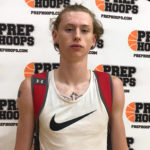 Dillon Ware 6'6" | PF Danville | 2020 State IN and Sam Comer Sam Comer 6'5" | SF Danville | 2020 State IN controlling the floor, Danville is going to be a tough team to beat, and the teams that can compete are few and far between in 3A.
HOST: Washington
Game 1: Heritage Hills vs. Silver Creek
Game 2: Greensburg vs. Washington
Regional Notes: This Regional is no doubt one of the most anticipated of the weekend.  Silver Creek, Heritage Hills, and Greensburg are ranked #1, 2, and 3 in the state, and Washington is the host, so it should be a very fun Regional.  Silver Creek comes in at 25-2 with their losses coming to 4A #2 Lawrence Central and 4A #1 Bloomington South. Heritage Hills is 22-3 with losses to 4A #8 Brownsburg, 4A #9 Lafayette Jeff, and 3A #1 Silver Creek.  Greensburg is 23-2 with their losses coming at Southport and to 4A #1 Bloomington South. Washington is 20-5 and the underdogs in this Regional, but they do have the advantage of home-court advantage.
Biggest Surprise To Get Here: The biggest surprise here will probably be Washington as they had two tough games against the host, Vincennes Lincoln, and Sullivan.  They beat upset-minded Vincennes-Lincoln in an overtime thriller. Then, in the matchup between two Sectional favorites, they were able to beat Sullivan by 9.  
My Predictions: This Regional is very tough to pick as the top three teams are all present.  Silver Creek beat Heritage Hills 82-78 in an overtime game at the Hall of Fame Classic at New Castle in December.  The second meeting is a coin flip and will come down to the battle of the big men, Trey Kaufman Trey Kaufman 6'8" | PF Silver Creek | 2021 State #39 Nation IN for Silver Creek and Blake Sisley Blake Sisley 6'8" | PF Heritage Hills | 2021 State IN for Heritage Hills.  I give the slight edge to Silver Creek, but it can easily go either way. In the second meeting, Greensburg should be able to knock off the hosts, but Washington will no doubt give them a game.  Grant Niehaus played really well in the Sectional tournament, so if he continues to light it up, they've got a chance. In the Sectional finals, the winner of Silver Creek and Heritage Hills has a definite edge over the competition.  That winner will be in a prime position to make a run at the state title.