Over the course of the week, several players stood out over the rest.  Whether leading their teams to Sectional championships, putting up show-stopping performances in front of college coaches or just scoring at a record rate, these players were unstoppable last week.  Now, let's take a look at the top players from 1A Sectionals.
Johnell Davis Johnell Davis 6'2" | PG Gary 21st Century | 2020 State #313 Nation IN – Gary 21st Century Charter – 2020
Davis has been the best player at the 1A level this season, and he has even played himself slightly into the Indiana Mr. Basketball talks.  The Florida Atlantic commit was on fire in the Sectional tournament averaging 30 points and 8 rebounds per game.  In the semifinals game, Davis put up 33 points and pulled down 9 boards.  Then, in the Sectional finals, Davis scored 26 and grabbed 6 rebounds.  He will be a key player the rest of the postseason as they try to make a run at a state title.
Tyler Myers – Evansville Day – 2023
Tyler Myers has been outstanding this season, and he is a must-see player in the future across the state.  Myers scored 29 points and 35 points in his first two Sectional games, both wins.  He is a natural scorer, and if he continues to play at this level, Evansville Day is going to be a tough team to beat over the next three seasons.
Champ McCorkle Champ McCorkle 6'5" | SF Greenwood Christian | 2020 State IN – Greenwood Christian Academy – 2020
McCorkle has been a huge reason why Greenwood Christian has made its run to be one of the top 1A teams in the state this season.  In Sectional, McCorkle averaged 19 points, 5 boards, and 6 assists in two wins for GCA.  He scored 21 in the Sectional finals to give them the extra push late over Providence Cristo Rey.  Greenwood Christian is going to be a tough team to beat in the postseason, and McCorkle is hoping to help them make a run to the state title.
Brevin Hallatt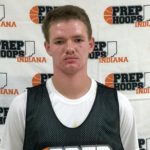 Brevin Hallatt 6'6" | PF Blue River Valley | 2022 IN – Blue River Valley – 2022
Hallatt was outstanding for Blue River in the Sectional with two 20 point performances and even a double-double.  Coming into Sectional, Hallatt only had two 20 point performances on the season.  He was able to double that in Sectional with a 21 point and a 24 point performance.  He also pulled down 11 rebounds in the semifinal win over Seton Catholic for his 8th double-double of the season.  He is going to be key for Blue River to finish this year and in the future.
Jahmyre Jackson – Indianapolis International – 2022
Jackson is not a well-known player, but he definitely put on a show as he led International to their first Sectional championship in school history.  In the semifinals, Jackson scored 25 points and pulled down 7 rebounds.  Both of these were just 2 shy of tying his career highs.  Jackson, though inconsistent at times, has shown that he has an innate ability to lead this team on both ends of the floor.  He will be a key player in the future for International.