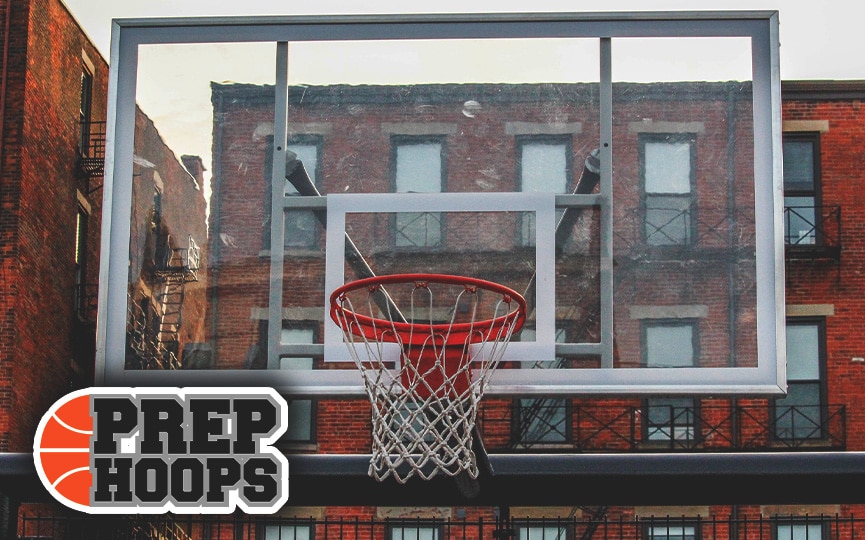 Posted On: 07/31/19 6:11 AM
Rising sophomore Noah Batchelor quickly asserted himself as one of the premier freshman prospects in the BCL last season. At 6-foot-7, Batchelor comes equipped with size, athleticism and versatility that not many freshmen have. Since the beginning of July, his recruitment has exploded, as multiple high major programs pulled the trigger on offering him. We caught up with Batchelor to discuss his active spring/summer, his experience at the USA Basketball mini-camp and his decision to transfer from St. Maria Goretti to Glenelg Country School.
PH: Take me through what this spring and summer has been like for you as a whole.
NB: This spring I took the time to really watch all of the top kids in my class like Jarace Walker and used it as motivation to get better. I wanted to expand my game more, so I really worked on my ball handling and taking my man off the dribble to the basket more. Once I got the invitation to the USA mini camp and then the big schools started coming in.
PH: You had an offer from George Washington early in July, but once you were invited out to the USA mini camp, you received offers from Clemson, Virginia Tech and Florida. What are all these schools telling you that they like about your game?
NB: They really liked how I'm always engaged in the game whether that be while I'm on the bench cheering on my teammates or when I'm on the floor always talking on defense. 
PH: You played for a very good, senior heavy St. Maria Goretti team. You were in the rotation and got the chance to experience some excellent basketball against other really good teams. How much did that prepare you for the 17U UA Circuit with Mid Atlantic Select?
NB: The practices we had at Goretti most definitely prepared me for this spring and summer. I was getting pushed around, literally. Abdou Tsimbila (Penn State) and all of our other bigs were all pushing me around and it got me stronger so I was more confident going out and playing up in 17's.
PH: Other than the physicality of the varsity level, what were some other areas that you had to adjust to in accordance with playing at such a high level?
NB: Just getting more comfortable in general with everything really. I've never been to a private school, so practices and and the overall intensity was a lot different than what you'd see at a public school.
PH: Take me through your experience at the USA mini camp. 
NB: The first day, we really didn't do much. The 2023, 2022 and 2021 prospects had a workout for about two hours, but then late at night we had classes for life skills where NBA players would talk to us about how important the choices we make are. Once we did start workouts, it was hard and tiring because they would put us through so much stuff. It's already hard to breath in Colorado, so the workouts were harder than any high school workout I've been to. Off the court, all of the players were so nice and friendly and just looking to help each other.
PH: What went into your decision to transfer from St. Maria Goretti to Glenelg Country?
NB: It really just wasn't a good fit for me at Goretti, so I just wanted to find a place for me that would treat me like family. Glenelg was the first school to reach out to me as soon I decided to transfer. I visited the school and talked with a lot of the players. As soon as I went there, it just felt like a home for me. Coach [Garrett] O'Donnell told me that I would impact the team in a lot of ways by scoring and being as talkative as I am on defense.