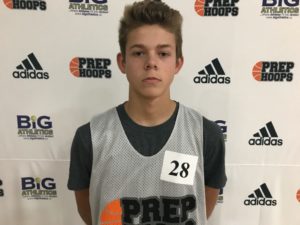 The favorite: Des Moines Christian is the top seed in the district, and for good reason. The Lions are a traditional power who have had another strong season. They own a 53-40 win over second seeded Woodward-Granger and have played the most difficult schedule of any team in the district. Led by Curran Ingram (14.7), this is a deep, balanced team with eight players averaging between 3.1 and 8.3 points a game behind Ingram. Nothing that DMC does is going to blow you away, but this group just knows how to win games and they should be considered the favorite here. 
The biggest threat: Woodward-Granger has won nine of 11 games following the holiday break, and have three double figure scorers in Noah Hoyt (14.3), Bryce Achenbach (14.3) and Keith Braunschweig (12.7). They're the most explosive offensive team in the district, averaging 65.4 points a game, and they have some major weapons late in games, as they shoot 71.5% from the free throw line as a team, with four regulars shooting 73.7% or better. If they're able to grab a lead late in a district final against Des Moines Christian, they should be able to hold on to it. 
The dark horse: Mount Ayr is allowing just 43.5 points a game, which ranks 7th in 2A, and that defense should allow them to stay in games despite a significantly weaker strength of schedule than Des Moines Christian has played throughout the year. The Raiders have three double figure scorers in Dawson Frost (15.3), Payton Weehler (11.4) and Isaac Grose (11.2), and a fantastic lead guard in Myles Greene (5.1), who has dished out 189 assists against just 41 turnovers. Frost, Weehler and Grose are all capable 3-point shooters, as are Greene and Cayden Lambert (5.2), and if Greene can protect the ball, that quintet can make 3s, and they can play their strong defense, they could make a run. 
Players to watch
2020 Curran Ingram, Des Moines Christian
2020 Dawson Frost, Mount Ayr
2019 Myles Greene, Mount Ayr
2020 Bryce Achenbach, Woodward-Granger
2019 Noah Hoyt, Woodward-Granger
2019 Gracen Welberg, Panorama
2020 Kolby Shackelford, Panorama
2020 Bryce Littler, ACGC
The favorite: After starting 13-0, Treynor has stumbled a bit down the stretch, going 5-3 in their last eight games, but the Cardinals have to feel pretty good about their district draw, where they are clearly the team to beat. Four players average in double figures in Jack Tiarks (13.4), Jack Stogdeill (11.7), Jon Schwarte (11.7) and Jerry Jorgenson (11.4). Each were key pieces on last year's State team, and will be looking to get them back to Des Moines here. Jorgenson (68 3PM) and Stogdill (34 3PM) are dangerous shooters, while Tiarks and Schwarte, at 6-4 and 6-10, respectively, give Treynor plenty of size. This is a talented, experienced group that should be able to cruise through this district. They swept second seeded Underwood 84-55 and 76-53 this year. 
The biggest threat: Underwood is the district's second seed and is a solid defensive team, allowing just 48.1 points a game, good for 16th in 2A. The Eagles are led by Jalen Humphrey (13.6), while Blake Hall (8.0) has proven to be a quality lead ball handler and decision maker. Despite being the second seeded team, it's tough to see a team that was swept by Treynor by a combined 52 points coming out of the district. 
The dark horse: It's tough to see Treynor losing the semifinal game, so Tri-Center looks like the biggest threat to make an unexpected run. The Trojans are led by Leyton Nelson (12.6), while Jackson Roane (8.7, 38.8 3P%) and Ethan Alfers (7.2, 40.6 3P%) give them some shooting. 
Players to watch
2020 Jack Tiarks, Treynor
2020 Jon Schwarte, Treynor
2020 Jack Stogdill, Treynor
2019 Jerry Jorgenson, Treynor
2021 Blake Hall, Underwood
2020 Nathan Lindsay, Clarinda
2019 Drake Polsley, Shenandoah
2020 Kyle Cerven, Shenandoah
2021 Leyton Nelson, Tri-Center
SUBSTATE FINAL PREDICTION
Des Moines Christian vs. Treynor
Both of these teams struggled a bit down the stretch this year, but it's Treynor who has more individual talent and is the better defensive team. The Cardinals get back to State in a low scoring slugfest.