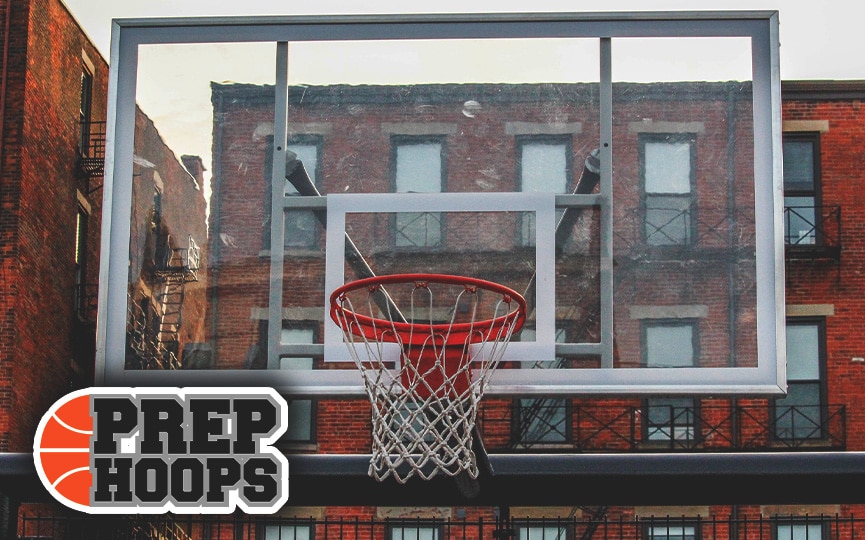 Posted On: 02/3/18 11:09 PM
Five games were played on Saturday at the First Academy Shootout in Orlando.
There were some good performances as teams are just a few games away from their respective district tournaments.
Here's a look at the best players on the day.
Rahsaan Lewis (Windermere Prep)
No one was more clutch than Windermere Prep senior guard Rahsaan Lewis. With 28 seconds left, the 6'0″ guard hit a 3-pointer to put the Lakers ahead of Holy Trinity (VIDEO). It proved to be the game-winner in a 58-57 score. Lewis finished with 27 points, tops on the day for all scorers at The First Academy Shootout.
Jose Placer (Master's Academy)
Senior University of Maryland Baltimore County commit Jose Placer casually scored 25 points in the Eagles 64-55 loss to Providence. The 6'1″ 2018 point guard connected from long range with ease, but his best attribute is his passing ability and maneuvering inside.
Tre Mann (The Villages)
Celebrating his 17th birthday, someone should have told Tre Mann that he isn't 18 yet. That is the number of points he scored in the 58-45 victory over First Academy. He had a vicious putback slam and some really good moments. The Villages played well as a group with Mann leading the charge alongside fellow juniors Byron Smith (15 points) and Peyton Williams (13 points).
Ahren Freeman (Providence)
The Stallions rely on Ahren Freeman to get in the paint and score. He did just that in the victory over Master's Academy with 17 points. The 6'6″ forward is at his best when he puts his head down and heads for the rim. With senior Will Erickson suffering a hamstring injury in this game, Freeman had to do a whole lot more of the dirty work on both ends of the floor.
Seth Coleman (Holy Trinity)
It has been a steady season for 2019 forward Seth Coleman. The 6'6″ junior scored 19 points for Holy Trinity in the one-point loss to Windermere Prep. Coleman used his pure strength to get inside and score. He's just hitting his stride and looks ready to breakout.
Christian St. Germain (Orangewood Christian)
Senior forward Christian St. Germain scored 21 points in a 48-44 win over Poinciana in the opening matchup of the day. The 6'5″ forward is a talented shooter who made multiple shots today with defenders right in his face. He struggled with foul trouble early on, but he settled into his groove when it mattered most.
Elwood Tomlinson (First Academy)
The top scoring threat all season long for the Royals has been senior guard Elwood Tomlinson. He added a team-best 19 points in the nightcap loss to The Villages. A 6'2″ 2018 prospect, Tomlinson is a high IQ guard who scores in bunches.
Lorenzo Hardy (Melbourne Central Catholic)
It was senior forward Pavel Antonov who finished with a team-high 20 points for the Hustlers in an 85-69 win over Tampa Catholic. However, I thought Lorenzo Hardy performed at the highest level for his group. He came up clutch with scoring drives and outside shots to end up with 17 points. At 6'3″, he's both speedy and athletic which fits the bill for this team.
Darren Robinson (Tampa Catholic)
The Crusaders took an early lead thanks to senior guard Darren Robinson. The 6'2″ 2018 starter hit two of his game-best six 3's in the first quarter to put Tampa Catholic ahead 11-7. However, Melbourne Central Catholic took over and never looked back. Regardless, Robinson had a fine outing alongside senior guard Tim Carter (15 points) and sophomore guard Kobe Knox (10 points).
Anthony Duncan (Poinciana)
A long and crafty forward, Anthony Duncan recorded a double double with 17 points and 12 rebounds in the loss to Orangewood Christian. The 6'6″ junior had eight rebounds in the first quarter alone as the Eagles crashed the boards. He put in a strong effort in the second half as an attacker. Duncan is the best inside presence on this young Poinciana team.
Honorable mentions: Pavel Antonov (Melbourne Central Catholic), Tim Carter (Tampa Catholic), Tay Cobb (Melbourne Central Catholic), Byron Smith (The Villages), Shaquan Jules (Windermere Prep), Treston Livingston (Providence), Dru Nickson (Holy Trinity), Joe French (Master's Academy), Brandon Schwab (Holy Trinity), Michael Gavin (Windermere Prep), Peyton Williams (The Villages), Kobe Knox (Tampa Catholic) and Drew Thelwell (Orangewood Christian).