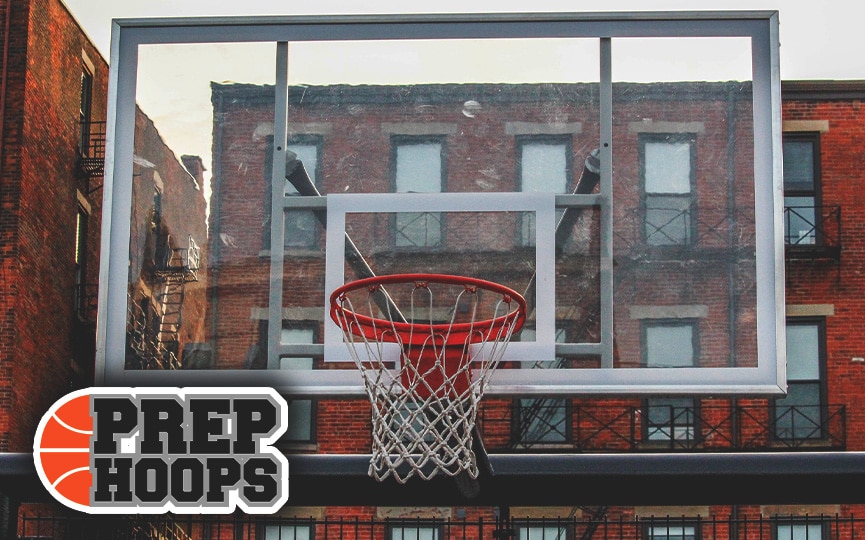 Posted On: 11/2/17 2:10 PM
As the beginning of the high school season rapidly approaches, more and more 2018s are coming off the board. In October, we saw big names such as Lamar Norman and Taylor Currie announce their college commitments. In addition to the big names, we saw some lesser-known but still plenty talented players such as Anthony Crump and Mason Pline commit. The 2018 class has been praised for its plethora of talent as well as its depth – it's perhaps the best class in recent history. A majority of the top talent has already committed, with only 7 of our top 25 available. There is, however, some quality talent up for grabs. Let's take a look at some of the top remaining uncommitted seniors:
Tray Jackson (Detroit Western) – The 6'8″ forward will be a steal for whatever college he decides to attend. To me, Jackson has just begun unlocking his full potential. He has the size, length, athleticism and mobility to play either the 3 or the 4, presenting a matchup problem at either position. His jumper has improved leaps and bounds over the past year – he's now a guy who must be accounted for on the three point line. He has good handles for a guy who's 6'8″ and is more than capable of taking his defender off the dribble. He's a promising player given the improvements he's made over the past two years – if he can keep it up, he will be scary good in years to come.
Markeese Hastings (Godwin Heights) – Due to a magnificent AAU campaign, Hastings has blown up over the course of the last 6-8 months. He dominated competition of all levels this spring/summer, proving that he is a D1 player without question. Though undersized for his position, Hastings makes up for it with great athleticism and strength to go with an unmatched motor. He's another guy who's improved his game a ton over the past year – expect a monster senior campaign from Hastings. Hastings, like Jackson, will be a guy who will be a steal for the college he chooses.
Bryce Washington (Southfield Christian) – Washington holds double-digit D1 offers and for good reason. In today's three-point favoring game, he fits the mold perfectly. While he's definitely a guard, he fits the mold of three-and-d perfectly – he's a perfect complimentary piece to a star. Washington is also a high-level athlete who excels at finishing in transition. This season, his Southfield Christian squad will be the favorite to win the Class D state championship. Expect a big year from Washington.
D'Juan "Toodles" Seal (Detroit Pershing) – If you watched Seal play this AAU season, you would be scratching your head wondering why he doesn't have a D1 offer yet. He's a high-level athlete who plays with the motor, intensity and killer instinct of a Russell Westbrook. While there's no question that he's undersized for his position, he's the type of player who can and will compete with any level of competition. He had one of the best AAU seasons out of anybody in the state and will look to carry that into the high school season. While he does hold very good D2 offers, I believe he's worth a shot for a D1 school in need of a tough, high-energy player.
Seth Millner (Grand Rapids Christian) – Last high school season, Millner was the fourth option on a loaded Grand Rapids Christian team. However, a year makes a huge difference: Xavier Tillman and James Beck are now playing for Michigan State and Oakland, respectively, and Duane Washington has transferred to Sierra Canyon to finish his high school career at prep school. This leaves Millner as the undisputed number option, giving him an opportunity to have a big season. He already proved himself this AAU season, breaking out as more than just a role player on his way to a handful of mid-major D1 offers. Millner has a simple type of game that coaches love – nothing fancy, he just makes the right play. Look for Millner to have a solid season this year.
Deante Johnson (DEPSA) – Johnson earned a handful of mid-major D1 offers this AAU season. The big man is one of the best shot-blockers in the state. He has long arms, is very mobile and has great timing, all of which allow him to be a high-level paint protector. Johnson is a player who's just scratched the surface of his potential, as he's fairly raw offensively. With that being said, he finishes around the rim well – he excels catching and finishing lobs. This year, Johnson will play on an extremely talented DEPSA team that is one of the favorites in Class C.  It's very possible we could see him playing in the Breslin come March.
Other uncommitted 2018s worth watching this season:
Carl Bow (Hazel Park) – Underrated bucket-getter who is due for a huge senior season
Payton Harley (Wyoming) – Solid overall player, great defender. Had a good AAU season.
Jacob Boonyasith (Jenison) – Holds an offer from Air Force as well as some good D2 offers. Smooth scorer
Kaevon Merriwether (Belleville) – Holds an offer from Western.
Jacob Polakovich (Grand Rapids Catholic Central) – Holds a handful of solid D2 offers. Bruiser. Tough kid.
Ja'Kavien Lewis (Flint Carman-Ainsworth) – Perhaps the top on-ball defender in the class.
Justin Fischer (Warren De La Salle) – One of the top passers in the state, regardless of class
CJ Robinson (Clarkston) – Complete PG, playmaker, defender – winner.
Trendon Hankerson (Novi) – Underrated combo guard who is poised for a big season.
Jack Ammerman (Ann Arbor Skyline) – Sniper.
Zach Winston (UD Jesuit) – Good size, good shot. Great complimentary piece.