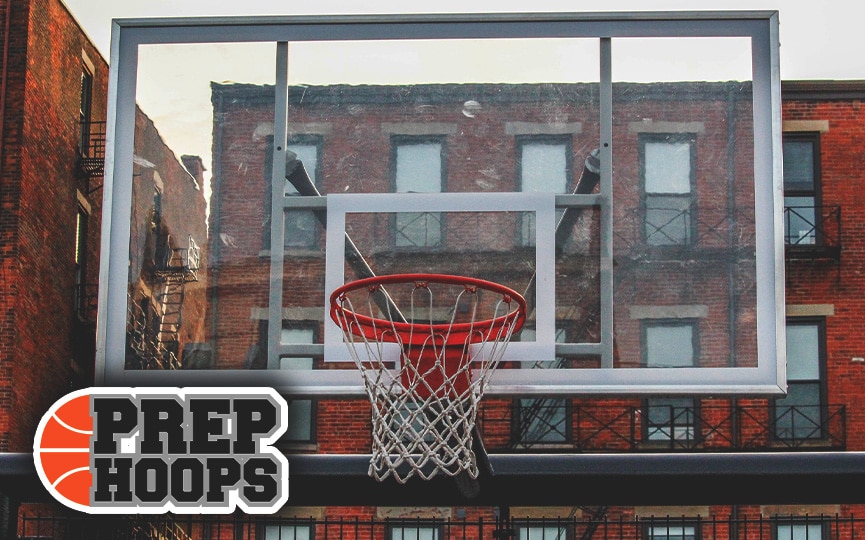 Posted On: 01/18/16 2:55 PM
Another crazy week of basketball is in the books, and our new Power Poll shows the shake ups as seven of last week's top 15 teams took a loss.
Paul VI of the WCAC jumps back to number one after a brief one week stint at number two after defeating arch rival Bishop O'Connell for the second time this season. Despite five losses, PVI has played a brutal national schedule and has handled their immensely talented and deep roster well.
Deep Run takes a jump into the top 10 with a big conference win over previously undefeated Henrico who had won 33 straight games before that, and undefeated Green Run of Virginia Beach joins them as the new additions to the top 10.
See the rest of the 30 best teams in the VISAA and VHSL, regardless of classification, below.
1. Paul VI
Overall Record: 12-5
Previous Rank: #2
Key Wins: Neumann-Goretti (PA), Word of God (NC), Bishop O'Connell (2X), Archbishop Carroll
Key Losses: St. John's, Advanced Prep Institute, Our Lady of Good Counsel, Bishop McNamara
Last Week: Wins over Archbishop Carroll, Bishop O'Connell, St. Joseph's (NJ) 1.
2. Virginia Episcopal School
Overall Record: 9-2
Previous Rank: #1
Notable Wins: Millwood, Williamsburg Christian, St. James, Carlisle (2X)
Notable Losses: Arlington Country Day,
Last Week: Wins over Millwood and Williamsburg Christian; Lost to Northfields Mount Harmon (MA)
3. IC Norcom
Overall Record: 15-0
Previous Rank: #3
Notable Wins: Norview, Hampton, Lake Taylor, Woodside, Atlantic Shores
Notable Losses: None
Last Week: Wins over Millwood, Atlantic Shores, Landstown
4. Blue Ridge
Overall Record: 12-3
Previous Rank: #4
Notable Wins: Hargrave, STAB, MacNab, Episcopal, Millwood
Notable Losses: Pallotti, Mt. Zion Prep, John Marshall
Last Week: Wins over Miller School and Millwood
5. Henrico
Overall Record: 16-1
Previous Rank: #5
Notable Wins: Lake Taylor, Hermitage, St. Christopher's, Highland Springs
Notable Losses: Deep Run
Last Week: Wins over Armstrong and Lee-Davis; Lost to Deep Run
6. LC Bird
Overall Record: 9-1
Previous Rank: #8
Notable Wins: Kecoughtan, John Marshall, Hampton, Varina
Notable Losses: Bethel
Last Week: Win over Monacan
7. St. Christopher's
Overall Record: 16-2
Previous Rank: #6
Notable Wins: Deep Run, John Marshall, Trinity Episcopal, CD Hylton
Notable Losses: Henrico, Atlantic Shores
Last Week: Wins over Woodberry Forest and Collegiate; Lost to Atlantic Shores
8. Green Run
Overall Record: 13-0
Previous Rank: #12
Notable Wins: Tallwood, Granby, Norview, Maury
Notable Losses: None
Last Week: Wins over Hickory and Maury
9. Deep Run
Overall Record: 14-1
Previous Rank: #14
Notable Wins: Henrico, John Marshall, Mills Godwin, Millwood
Notable Losses: St. Christopher's
Last Week: Wins over Henrico, Doughlass Freeman, James River
10. Bishop O'Connell
Overall Record: 10-7
Previous Rank: #9
Notable Wins: Bishop McNamara, IDEA, Bishop Ireton, Mount Pleasant
Notable Losses: St. John's, DeMatha, PVI (2X)
Last Week: Lost to Paul VI
11. Episcopal
Overall Record: 12-3
Previous Rank: #7
Notable Wins: Atlantic Shores, STAB, Norfolk Collegiate, Woodberry Forest, Maret
Notable Losses: Blue Ridge, St. Stephen's St. Agnes, Episcopal Academy (PA)
Last Week: Win over Landon (MD); Lost to St. Stephen's St. Agnes
12. John Marshall
Overall Record: 12-2
Previous Rank: #11
Notable Wins: King's Fork, James Monroe, Blue Ridge
Notable Losses: L.C. Bird, Deep Run
Last Week: Wins over Douglass Freeman and Armstrong
13. Trinity Episcopal
Overall Record: 13-2
Previous Rank: #13
Notable Wins: Benedictine, Williamsburg Christian, Atlantic Shores
Notable Losses: St. Christopher's (2X)
Last Week: Wins over Collegiate and Oscar Smith
14. St. Stephen's St. Agnes
Overall Record: 12-3
Previous Rank: #16
Notable Wins: Middleburg Academy, Millwood, STAB, Woodberry Forest
Notable Losses: Atlantic Shores, HD Woodson, Our Lady of Good Counsel
Last Week: Wins over Episcopal and Georgetown Prep
15. Wakefield
Overall Record: 14-0
Previous Rank: #18
Notable Wins: Tuscarora, VA Academy, Eastern (DC)
Notable Losses: None
Last Week: Win over George Marshall
16. Norfolk Collegiate
Overall Record: 12-2
Previous Rank: #17
Notable Wins: Atlantic Shores, Virginia Academy, Bishop Ireton, Granby
Notable Losses: Episcopal, Williamsburg Christian
Last Week: Win over Granby
17. Cape Henry
Overall Record: 8-2
Previous Rank: #20
Notable Wins: Huntington Prep, Coolidge, Benedictine, IMG Academy
Notable Losses: WJ Keenan, High Point Christian
Last Week: Wins over Benedictine and IMG Academy (FL)
18. CD Hylton
Overall Record: 11-3
Previous Rank: #23
Notable Wins: Woodside, Potomac, Battlefield, Stonewall Jackson
Notable Losses: Potomac, St. Christopher's, Forest Park
Last Week: Wins over Battlefield, Potomac, Stonewall Jackson
19. Potomac
Overall Record: 13-2
Previous Rank: #10
Notable Wins: Hylton, Battlefield, Stone Bridge
Notable Losses: Hylton, St. Alban's
Last Week: Wins over Freedom and Osbourn Park; Lost to CD Hylton
20. Williamsburg Christian
Overall Record: 14-4
Previous Rank: #15
Notable Wins: Atlantic Shores, Norfolk Collegiate, Amelia Academy, Benedictine
Notable Losses: Trinity Episcopal, Bethel
Last Week: Wins over Alliance Christian and Isle of Wight; Lost to STAB and VES
21. Westfield
Overall Record: 11-2
Previous Rank: #21
Notable Wins: Battlefield, St. Alban's, Landstown, Robinson
Notable Losses: Lake Braddock, Yorktown
Last Week: Wins over Oakton and Centreville
22. Oscar Smith
Overall Record: 13-1
Previous Rank: #19
Notable Wins: Deep Creek, Nansemond River, Lake Taylor
Notable Losses: Trinity Episcopal
Last Week: Win over Bayside; Lost to Trinity Episcopal
23. West Springfield
Overall Record: 12-1
Previous Rank: #26
Notable Wins: Chantilly, Osbourn, South County, WT Woodson
Notable Losses: Landstown
Last Week: Wins over WT Woodson and TC Williams
24. Northside
Overall Record: 13-1
Previous Rank: #25
Notable Wins: Cave Spring, Lord Botetourt (2X), George Wythe (Wytheville), William Byrd
Notable Losses: Cave Spring
Last Week: Wins over Rockbridge County and Hidden Valley
25. Bethel
Overall Record: 11-3
Previous Rank: #27
Notable Wins: LC Bird, Woodside, Lake Taylor, Williamsburg Christian
Notable Losses: Phoebus, Hampton, Heritage
Last Week: Wins over Gloucester and Phoebus
26. Middleburg
Overall Record: 14-7
Previous Rank: #28
Notable Wins: Millwood, Virginia Academy (3X), Riverdale Baptist, Benedictine
Notable Losses: St. Stephen's St. Agnes, Clinton Christian, Woodbridge, Miller School
Last Week: Wins over Virginia Academy, Benedictine, Miller School
27. Eastern View
Overall Record: 14-0
Previous Rank: #29
Notable Wins: Culpeper County, James Monroe, Highland School
Notable Losses: None
Last Week: Win over Kettle Run
28. Tuscarora
Overall Record: 15-1
Previous Rank: #30
Notable Wins: Chantilly, Stone Bridge, Heritage-Leesburg (2X)
Notable Losses: Wakefield (2OT)
Last Week: Wins over Stone Bridge and Forest Park
29. Loudoun Valley
Overall Record: 13-0
Previous Rank: NR
Notable Wins: Spotswood, Millbrook (2X), John Champe
Notable Losses: None
Last Week: Wins over John Champe, Millbrook and Park View (Sterling)
30. Radford
Overall Record: 12-1
Previous Rank: NR
Notable Wins: Martinsville, Lord Botetourt, Salem, Alleghany
Notable Losses: Martinsville
Last Week: Wins over Salem, Eastern Montgomery, Auburn
Just Missed: Stone Bridge, John Champe, George Mason, Martinsville, Hopewell, Lake Taylor, William Fleming, Albemarle, Lake Braddock, Norview, Landstown, Honaker, Woodside, Cosby, Stonewall Jackson, North Stafford, Stafford, Gate City