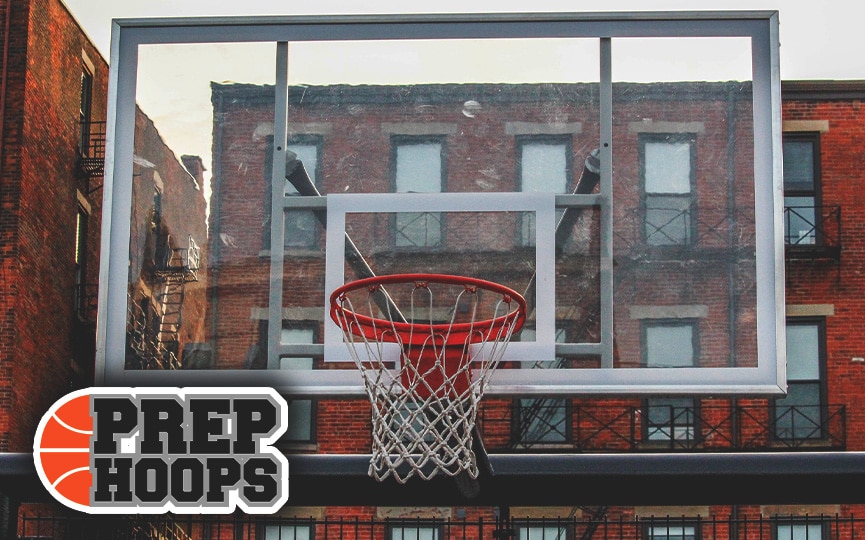 Posted On: 01/29/16 4:51 PM
With the Vantage Hoops VA High School Showcase coming up tomorrow, we wanted to break down the numerous prospects that will be playing in the event. There are a number of prospects who are already signed, check the bottom for them, however, we decided to break down the next level prospects who are still available, ranging from seniors to freshmen. Here are a list of them, sorted by team based on what time they play.
Prince George High School
Cory Hill; 5'9 PG; Senior
Don't let the 5'9" frame fool you, because Hill plays much bigger than he is. He has long arms which he uses to wreak havoc on ball handlers. He's a quick guard that gets in the paint at will and is able to finish through contact in transition. He is a playmaking guard at both ends with a developing skill set and jump shot.
Su'Wayne Turner; 6'3 F; Junior
A high motor forward, Turner has emerged as a big time threat for the Royals and has played well in big games for them. Despite being slightly undersized, Turner battles bigger players on the boards, and is capable of finishing through contact. In straight line drive situations, he's able to use his quickness to get to the basket and finish.
Princess Anne High School
Mike Barfield-Owens; 6'5 PF; Junior
High motor and versatility describes Barfield-Owens best as he is a productive forward that can play on both the perimeter and in the post. He's an athletic finisher in transition, owns the offensive glass despite being somewhat undersized, and is a capable secondary ball handler against pressure. He's also able to guard multiple positions and is a walking mismatch on the offensive end.
Quevon Jackson; 5'8 PG; Senior
A floor general first, Jackson is the type of tough nosed guard that coaches love. He's a dog defensively, pushes it well in transition and sees the floor. He's a strong ball handler, one who protects the basketball and creates for others. He's an underrated division three prospect who always puts his team in a position to win.
Tim Montgomery; 5'9 PG; Freshman
He's just a freshman, but Montgomery is a solid prospect at the lead guard position. He still has to grow, but his frame is beyond his years with wide shoulders and strong legs. He's capable of creating off the bounce for himself and teammates, and has a maturity beyond his years. He'll be one to keep an eye on moving forward.
Meadowbrook High School
James "Amp" Williams; 6'4 Wing; Senior
A scoring guard with a dog mentality, Williams has been putting up big numbers for Meadowbrook throughout the season. He's a knock down shooter from deep with a quick trigger and he's not afraid of the big shot. He has good size and anticipates well on defense, making him a two way player. He's a scholarship level talent.
Richard Legree; 6'5 Wing; Senior
A long and talented wing, Legree is particularly good from 15 feet and out. He's a threat to score it off the catch which makes defenders crowd him, and he's particularly good off of one or two dribbles in the mid range. He's long but lanky, and he's an impact player both on and off the basketball.
Jamon "Doc" Battle; 6'2 WG; Freshman
One of the more productive freshman in the Richmond area so far, Battle has shown a knack for scoring the basketball and making plays at all three levels on the floor. He's an athletic combo wing that is streaky off the catch, but can fill it up in bunches when he gets it going. Expect to see more from him as he develops his game on both ends of the floor.
Landstown High School
Mike Christmas; 6'4 Wing; Freshman
One of the most productive freshmen in the state, Christmas has a mix of fundamentals, size and athleticism that makes him a mismatch at the high school level. Moving forward, he has the skill set to be a division one two guard, that works well in the mid range area off one or two dribbles. He's a good rebounder, and he works hard on both ends of the floor.
Darryus Evans; 6'1 G; Senior
A big time shooter that can do it off the catch and off the bounce, Evans can fill it up quickly when he gets it going. He's an underrated available senior that can shoot it from deep and run the show when needed. He has interest from a multitude of division three schools.
Woodbridge High School
Ibrahim Kamara; 6'5 WF; Senior
Another versatile wing, Kamara is a bouncy three/four combo that runs the floor and finishes above the rim. He has long arms and a high motor, creating havoc and making plays on both ends. He's a hard worker and has a high ceiling.
Cam Robinson; 6'1 WG; Senior
Robinson is a lanky, but strong, 6'1 scoring guard that can fill it up at all three levels. He's a threat from everywhere on the floor, as he can stretch the defense and work both on and off the basketball. He has interest from low major division one and division two schools.
Hopewell High School
Johnnie Harrison; 6'2 Wing; Senior
One of the hardest working players in the state, Harrison has 1 gear and that's full throttle. He's a freak athlete with a great build and he's one of the premier perimeter defenders in Virginia. A lefty who is explosive in transition, Harrison's a streaky but decent shooter, and he's good from the midrange off of one or two dribbles.
Malik Jefferson; 6'7 PF; Sophomore
The bigger of the two twins, Jefferson is raw but chock full of potential. He's an impact defensive player that can switch screens with smaller players, or he can sit in the zone and hold down the paint. He has work to do offensively, but a lot of room to grow.
Jalen Jefferson; 6'5 F; Sophomore
J. Jefferson is more of a wing than his brother, but he's not quite as polished yet. He's still a long and athletic wing that's capable of guarding multiple positions and finishing at the rim in transition. He's a project, but has division one upside as well.
Kecoughtan High School
Taqwain Drummond; 6'4 WF; Junior
He's coming off of ACL surgery, so it's not surprising he got off to a slow start, but he's coming along as the season goes. He's transformed into a reliable shooter off the catch and limited dribbles, and he's starting to show the explosiveness that he was known for before the injury. Expect a big summer from this Hampton based wing.
Devonte Peterson; 6'6 F; Senior
A lanky 6'6 combo forward, Peterson is both bouncy and versatile. He's another one that's able to play on both the perimeter and in the post, which is good for the new style of basketball. He has room to grow offensively, and has a high ceiling as a prospect.
Battlefield High School
Brayden Gault; 6'4 WG; Sophomore
Gault has quickly established himself as one of the premier young combo guards in the state, although he's better off the ball than he is on. He's an intelligent wing that can score it both on the perimeter and in the post, and although he's a scorer he'll rarely shoot you out of a game. He has great size and still has a lot of room to grow.
Blake Pagon; 6'5 WF; Senior
One of the hardest workers in the state, Pagon can play all over the floor and will find a way to make an impact. He's averaging 18 ppg this season, and usually guards the best player on the other team as well. He's a big time player with 4.4 GPA as well.
Williamsburg Christian Academy
Cle'Von Greene; 6'3 G; Junior
Greene's upside is through the roof, because he's capable of dominating at the high school level simply through his athleticism and tenacity. He's a pogo stick on both ends, finishing plays above the rim and blocking shots on help side. He has a developing skill set, but he's already capable of creating his own shot at will.
Andre Brown; 5'10 PG; Senior
A shooter by nature, when Brown gets it going he can fill it up from deep. He's a true point guard too, that makes plays for his teammates and can get his team into sets. He isn't an uber athletic point guard, but he's strong, smart and savvy and will always put his team in a position to win.
Ra'Shawn Cook; 5'8 PG; Junior
Cook is one of those good at everything type of players. He doesn't have a specialty, but he can score it in a variety of ways, especially in transition where he can knock down the pull up or get to the rim and finish over players taller than him. He's the X factor for WCA, and has stepped up big in his first year with the team.
Millwood School
Aaron Cash; 6'6 PF; Sophomore
A 6'6 combo forward, Cash has quickly made his name known in the Virginia hoops scene after transferring to Millwood from North Carolina at the beginning of the school year. He has a size 20 shoe, meaning he could continue to grow, and he's a versatile forward that can play both inside and out. He's athletic, can shoot it and handle it in transition, making him a walking mismatch.
Miles Gibson; 6'5 F; Junior
Much like Cash, Gibson's ability to play both forward positions and shoot it from deep makes him an underrated part of the Millwood attack. He has a high motor on both ends, is physical in the paint and can really shoot it when he gets in rhythm. He's a scholarship level kid who can impact the game in many different ways.
Vilontae Eanes; 6'1 G; Senior
A lefty shooter with deep range and a quick trigger, Eanes has great form on his jump shot and is capable of burying teams quickly when he gets it going. He's an underrated ball handler, and has a good basketball IQ that allows him to play both on and off the basketball. On such a talented team he's often the forgotten man, but he's typically the X factor and determines how well they play.
Norcom High School
Travis Fields; 5'9 PG; Senior
A two time state champion, he's labeled as a winner because of all the intangibles he brings and what he's willing to do to win a game. Fields is a lightning quick ball handler that's tough to stay in front of and makes plays for everyone. He has a deadly middle game, with both the floater and pull up, and defensively he changes games with his menacing on ball defense.
Kevin "KJ" Davis; 6'5 WF; Junior
One of the more underrated juniors in the state, Davis is a combo forward that can fill it up with the best of them. He's long and active in the paint defensively, where he rebounds and contests shots. He's a deadly shooter, and has recently added the ability to create off the bounce, especially out of the triple threat.
Travis Ingram; 6'2 WG; Junior
An athletic freak, Ingram is as bouncy and explosive a wing as you'll find in the 2017 class. He's fearless when attacking the rack, looking to finish at or above the rim regardless of who's in his way. He can create his own shot in iso situations, and is a walking highlight in transition.
LC Bird High School
Charles Falden; 6'2 WG; Senior
He was a late bloomer, exploding on to the scene his junior year in the sixth man role. However, Falden has quickly established himself as an elite three level scorer that can exploit mismatches with his ability to score it in different ways. He's one of the best available scorers left in the 2016 class, and a scholarship steal for the team that lands him.
Mario Haskett; 6'3 CG; Junior
One of the fastest rising prospects in Virginia, Haskett picked up over 15 offers since the start of the AAU season. A deadly shooter and playmaker off the bounce, he's a terrific athlete that can finish above the rim in transition and will light you up off the catch or the bounce. A very bright kid, Haskett's basketball IQ is criminally underrated, and he'll continue to rise in the mid-to-high major recruiting circles.
Johquin "Pinky" Wiley; 6'0 PG; Junior
Talk about underrated, Wiley is perhaps the most over looked player in the junior class. He's one of the smartest players in the state, and his understanding of the game allows him to create for himself and others that makes easy scoring situations. He's a true floor general, and an extension of the coach on the court.
Committed Prospects
Damian Knowlin; Kecoughtan High School; Hampton University
Savonte Chappel; Prince George High School; Christopher Newport University
Charles "CJ" Williams; Millwood School; Howard University
Azariah Sykes; Millwood School; Morgan State University
Xavier Green; Williamsburg Christian; ODU
Deonte Jones; Hopewell; Fayeteville State