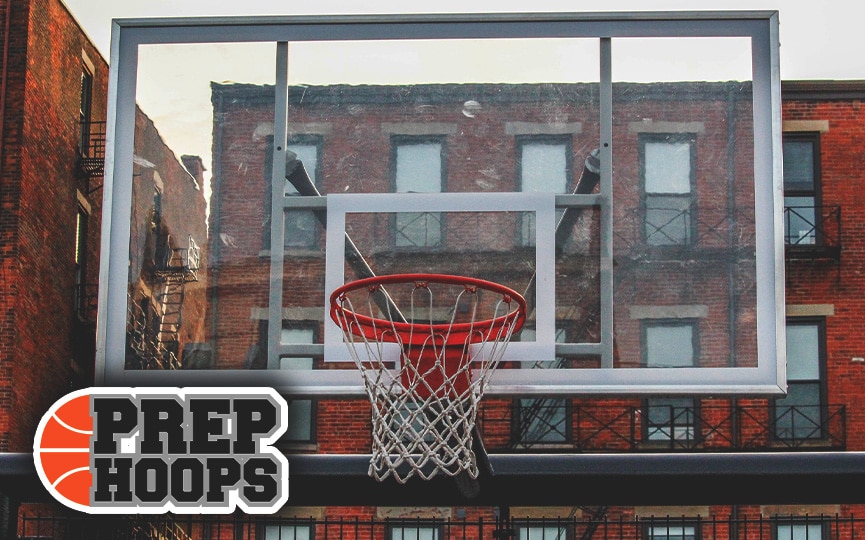 Posted On: 11/6/15 2:00 AM
November 5, 2015
A second-generation Panther will make an impact with the Northern Iowa basketball program beginning in 2017.
Waverly Shell-Rock junior Austin Phyfe –the son of former Panther hoopster Steve Phyfe — gave a verbal commitment to the Panthers earlier tonight.
Austin had three other offers and chose the Panthers over Air Force, South Dakota State, and North Dakota.
"Part of me has always wanted to go to UNI, my dad played there, my mom went there,  and my sister is there right now," said Austin. "And they offered me early, so I was able to go on quite a few visits, and I was almost positive that UNI was the school I wanted to go to, but before I made a decision I wanted to make sure that it was the right school for me."
The 6-foot-9 power forward checked in a No. 2 in our recently released installment of 2017 rankings, and joins our 5th-ranked 2016 Tanner Lohaus as Panther commits.
While playing with the Iowa Barnstormers this offseason Austin had maybe the best summer of any player in the state, and It seemed he was poised for some high-major offers to come in soon. Though he felt the same, he's comfortable with his decision to commit early.
"I had some high-majors calling," he said. "I was getting a lot of contact from Nebraska, Iowa, Creighton, and Colorado. That was nice and everything but I just thought that I knew UNI was the place I wanted to go. It was nice to have that interest from them (high-majors), and I'm not sure what would have happened over the next year. But I'm happy I made my decision and I'm very happy with UNI."
The Go-Hawk big has worked diligently over the course of his high school career to make himself a versatile threat, and his always-polished post skills are now accompanied by a legitimate outside shot, that makes him a threat from anywhere on the floor.
He mentioned to PHI what type of player he wants to ultimately become in the Missouri Valley Conference.
"I want to be a player that can bring the ball up the court from a rebound, and a good pick-and-pop player. I want to be able to drive and take it to the hole. I don't want to shy away from the low block kind of stuff, I still want to be able to have those skills. I just want to be a guy that can do it all," said Austin, who says he and Coach (Ben Jacobson) have briefly discussed his immediate role with the team.
"We haven't talked about it recently, but in the past we had a little small talk about it. It kind of depends on my height and what happens with my body from now until then. I can see myself being more of a four, I've been really working on trying to develop my ball-handling and my shooting and driving and things like that."
July 10, 2015
With one Division I offer in tow, from Northern Iowa, Austin Phyfe has already been one of the more recruited prospects in the 2017 class.
And with plenty of other D1s hot on his trail, and July live periods having started, he knows the rest of this summer will be critical for his recruitment — and his future.
"This summer's big for me, I don't want to wait too long to make a decision if more things should come, but I don't know if I want to wait two more full summers and commit late," said the Waverly-Shell Rock center. "Part of me wants to be done early, and part of me wants to wait and see what else would come over the next two years."
The 6-foot-9 ½ post has recently attended elite camps at Drake, UNI, and Creighton — the latter of which has shown considerable interest of late.
"Creighton said I'm one of the top guys on their radar right now, they just wanted to wait a little bit and see what happens with my body and see how my summer goes, and then get me down there again to play some of their guys and stuff like that," said Phyfe.
"Right now I'm just keeping my options open, I haven't really looked in to many schools yet, but I'm talking with Coach (Greg) McDermott a lot, and that's (Creighton) really a good school, and I like it there a lot, I'd say they are pursuing me the most right now."
UNI is still hoping for an early commitment from the talented big-man, and Drake is waiting before committing to an offer.
"UNI told me to just keep working, they've seen me play a lot, and they really wish I would commit there," he said.
"Drake, they just said I'm doing really well, they just want to wait a little bit and see what happens."
Phyfe was also able to mention three additional BCS schools that have been in contact with him recently.
"Nebraska, Iowa State, Iowa, they've been texting me and calling, I'd say those are the main ones right now along with the other three," said Phyfe.
With an already polished inside game, it's his outside game that he's been working to improve this offseason with his personal trainer Clayton Vette, and the Iowa Barnstormers.
"Right now I'm just really working on my perimeter game, just from workouts and in-game. Depending on how tall I get I want to make sure I have my outside game down," said Phyfe. "This June I hit a lot 3s, and I've been bringing the ball up the court and stuff, so it's going well."
Well-aware of the importance of this July, Phyfe — PHI's 4th-ranked 2017 — says his priorities are helping his team come out successful, and to display his newfound perimeter skills.
"First of all I want our team to be really successful, we've had a really good year. And I just want to keep improving on what I've been working on, and show off my perimeter game," he said.
"A lot of coaches have told me they've seen me work down low and everything, they just want to see what I can do besides that — so I'll be showing trying to show a lot more perimeter stuff than just post stuff."
August 11, 2014
Between his active growth plates, a busy summer with the Barnstormers 15U team and his professional mentors, Waverly-Shell Rock 2017 Austin Phyfe had plenty of news to share with us.
Former Go-Hawk big-man, Clayton Vette–a former NCAA Division II Player of the Year–has been conducting individual workouts with Phyfe every morning since June.
"I would lift from 7:00 to 8:30 and then I worked out with Clayton from 9:00 to 10:30," said Phyfe.
"We'd start off doing 15-20 minutes of ballhandling and then we'll do some shooting stuff and then a lot of post stuff."
In addition, former Northern Iowa Panther Ali Farokhmanesh is friends with Waverly-Shell Rock coach Nate Steege and has been working with Phyfe on his outside game and ball-handling.
Phyfe, who has grown from 6-foot-6 to 6-foot-8 1/2 since April, attended Drake and Northern Iowa camps, and is already being pursued by the Missouri Valley programs.
"Drake talked to me at the Elite Camp and told me they would be watching me and said they were going to come watch me over all the viewing periods and everything," said Phyfe.
"And then UNI has been calling my high school coach a lot and is talking about me and giving me some workout stuff to do and stuff like that."
Phyfe started football camp last week, but insists that basketball is his priority; he says he'll have a bigger role next season as a sophomore for the Go-Hawks, who made it to the state tournament last March.
"I think that last year I was kind of more of a role-player, and this year I won't be the top-guy with Jake (Velky) still there and everything," said Phyfe. "But I think I'll be the second-guy for sure."
April 4, 2014
Just a freshman, 6-foot-6 Austin Phyfe saw plenty of minutes last season for state quailfier Waverly-Shell Rock.
The center averaged 6.1 points and 4.2 rebounds for the Go-Hawks, who finished third in class 3A.
Phyfe's father is 6-foot-9 and played baskeball at Northern Iowa and then overseas for Uruguay's Aguada. He played professional basketball in 30 different countries by career's end.
"My dad played overseas and it's been my dream since a kid to play college basketball, D1," Phyfe told PHI.
The No. 2 prospect in our 2017 rankings, Phyfe says he will participate in other sports in addition to basketball, but his focus will always remain on hoops.
"I play football and I've actually golfed a little bit, and I'm going to try it out this year, just to see how it is," said Phyfe. "But it's still all about basketball"
Phyfe says he will play AAU with the Barnstormers 15U team this summer.