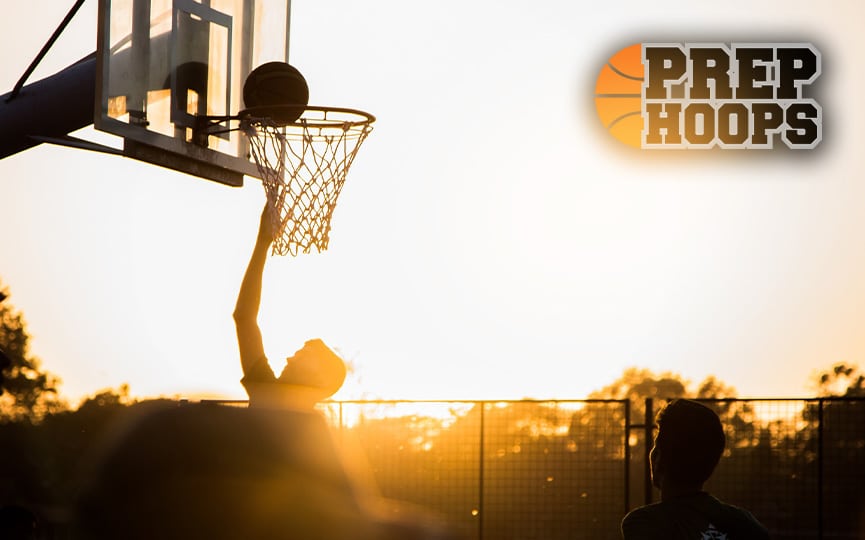 Posted On: 10/23/15 7:30 PM
The season has yet to officially start, but last night two of the top five teams in the nation met up in Floyd County for a scrimmage to raise money for the Chance Harmon Memorial Fund. The matchup, between perennial powerhouses Oak Hill Academy and Huntington Prep, and while Oak Hill ran away with the victory, it was a great way to kick off the soon-to-be season, and here's five things we learned from a talent ladened matchup. Here's what we learned.
Oak Hill is Stacked, Even for Oak Hill Standards
They brought in eight nationally ranked players over three classes, and it showed despite not having the number one player in the nation Harry Giles playing. Oak Hill brought in seniors Giles, Mario Kegler and Braxton Key; juniors Matt Coleman, Devontae Shuler and Tyshon Alexander; and sophomores Montez Mathis and Kenneth Nwuba. All twelve of their players are committed to or hold high major offers and are nationally ranked. They are deep at every position, and can easily sub in bulk when needed. They have shooters, athletes and size to match up with anyone in the country. They will be a tough team to beat.
Devontae Shuler Sets Tone for Oak Hill
The junior combo guard from Columbia, South Carolina showed his tremendous athleticism and playmaking ability last night while setting the tone for the entire Oak Hill group. Despite being one of the most gifted players on the court, Shuler showed an endless motor on both ends as he created scoring opportunities for himself and his team. He's a scrappy on the ball defender and made Huntington ball handlers uncomfortable the length of the floor, creating easy transition baskets for himself, especially in the first half. He's a tremendous athlete that finished above the rim and through contact, and his doglike intensity on both ends will make him a catalyst for this talented group.
Lindell Wigginton Oak Hill X Factor
With all of the dynamic athletes and big names on the Oak Hill roster, their sixth man, Canadian point guard Lindell Wigginton, will be an integral part off the bench with his ability to run the team. Wigginton was unguardable off the bounce, showing a sick hesitation dribble and his ability to change pace allowed him to get in the lane and create for his teammates. He has a great feel and instinct on both ends, and he finished in the lane with ease. He's an underrated athlete and a big time playmaker, and holds offers from Virginia Tech, Florida State, Boston College and Tennessee.
Khadim Sy Shows Immense Improvement
The undecided 6'9 big got the nod to start with Giles on the bench, and he was a big time impact on both ends where he protected the paint and showed a good repertoire in the post that led to 19 points. Sy, a native of Senegal that holds offers from Georgia Tech, Purdue, Kansas State, Virginia Tech and Wake Forest, was effective in post up situations showing a soft touch over both shoulders, and was consistent at the free throw line. He also dominated the glass on both ends and protected the rim defensively. With his rate of improvement, he could be one of the best bigs still available in the 2016 class.
Oak Hill Wings Shoot the Lights Out
The aforementioned transfer duo of Mario Kegler and Alabama commit Braxton Key were phenomenal in the win, finishing with 19 and 17 points, respectively. The two wings both showed the ability to make tough shots from deep both off the catch and off the dribble. With four playmaking lead guards on the roster and three post scorers that will likely demand double teams, Kegler and Key will have to be consistent threats from deep to keep defenses honest throughout their grueling schedule.
Micah Thomas Shows Versatility for Huntington
While Huntington surely has some things they'll have to work on as the season goes along, senior wing Micah Thomas rose to the occasion, finishing with 16 points in the first half. The Tennessee native, who holds offers from Baylor, Memphis and Iowa State, showed range early hitting four threes, and his length and athleticism allowed him to guard and play multiple positions throughout the course of the game. He was a tough and athletic wing that could fall in as the third option for Huntington early in the season.
Big Ten Commits Shoulder Big Load for Huntington
The senior duo of 6'7 Miles Bridges and 6'3 Curt Jones, committed to Michigan State and Indiana, respectively, will have to shoulder a lot of the scoring load for Huntington this season. Bridges, who struggled in the first half but showed some of the flashes that made him a top ranked prospect, will be especially important because of his versatility. The 6'7 wing had to play a lot in the post since Huntington was missing some of their bigs, but he protected the rim well with some big time rejections. He showed his versatility off the bounce, and threw down some huge breakaway and put back dunks that ignited the crowd despite the blowout.
Jones, who was thrust into handling the basketball most of the game, did what he does best in showing his range off the catch. It was hard to figure out why they had him handling the ball, which isn't his strong point, but he did show the ability to finish in the lane and above the rim in transition. The two will have to be consistent scoring options for Huntington in their 48 game schedule this season.