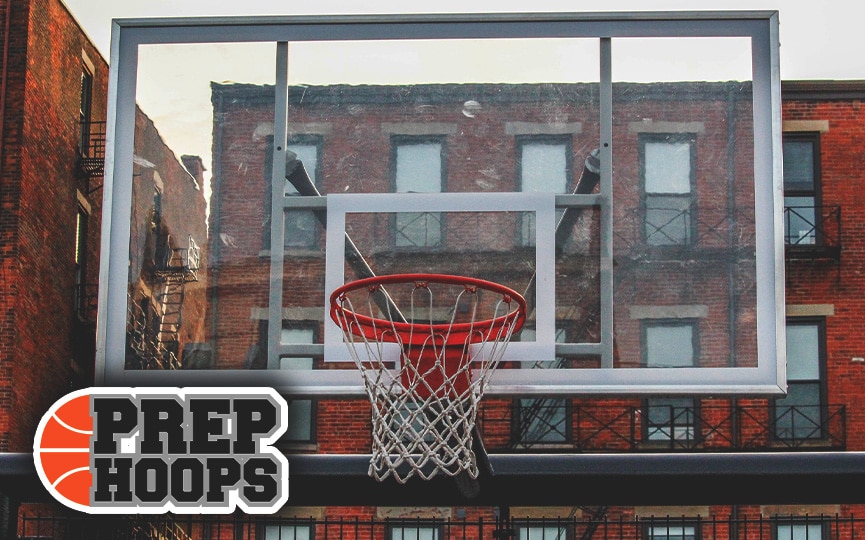 Posted On: 10/2/15 7:30 PM
collin shannon, pg, ankeny (2016)
Shannon tested out as arguably the quickest player at the Combine, leading the way in both the lane agility (10.54) and weave agility (7.04) tests, displaying the ability to change directions, accelerate and during weave agility, a nice, tight handle.
During game play, he showed the best court vision and passing ability that I saw of any player at the event. He sees the floor extremely well, has the ability to squeeze passes through tight spaces and set up his teammates for easy buckets. He's always under control, has the ability to turn the corner on the pick-and-roll and can also shoot it a bit from deep. He's a good enough scorer that the defense can't lay off of him, which makes his lead guard abilities even more pronounced. High-level ball handler and passer that should definitely be on the radar of all Division IIIs and could be a valuable asset for Division II/NAIA programs looking for a true floor general.
sinjun harshbarger, f, madrid (2016)
Like Camanche's Dylan Busse, Harshbarger was a nice small school surprise over the weekend. A combo forward, he's got the ability to beat the defense in a variety of ways.
He showed a good understanding of how to play post offense, establishing good, early position on the block and solid footwork on the catch. He needs to continue to get stronger to avoid getting bumped around in the paint, but that should continue to come. He's got the ability to stretch the floor and draw his defender away from the paint, and he's a good shooter from the perimeter for a 6'8″ kid. He's got good form and a quick release.
Area Division III programs should be on the lookout for Harshbarger, an intriguing stretch four at the next level.
BEAU KLOSTERMANN, GF, LINN-MAR (2016)
Klostermann was one of the most impressive players I saw over the summer, and his strong play continued during game play last weekend.
A skilled left-handed wing, he's a pure scorer with the ability to score at all three levels. It looks like he's improved big-time on his ability to shoot off the dribble, as he routinely hit elbow jumpers off the bounce. He's a very good shooter with picturesque form and solid size and length.
He's already on the radar of some Division II programs, and should be looked at by most area DIIs. He's a highly skilled offensive player who can present some matchup problems.
dylan busse, pf/c, camanche (2016)
Measuring in at 6'9″ with a 6'10″wingspan, Busse has the size that college programs are looking for in a power forward. He runs the floor well for a young big man and is a fluid athlete who moves fairly well side-to-side as well.
He's got the ability to score at all three levels, showing a nice face-up game and solid form on his jumper with range beyond the three-point line. On post ups, he does a nice job establishing position early, routinely beating his defender down the floor and presenting a wide base for his guards to find him, and allowing him to not get pushed around on the block. When he catches the ball on the block, he's not rushed, taking time to survey the defense and he does a nice job taking what is given to him. He's got solid footwork and good touch around the rim. He needs to continue developing his post moves and adding more to his left hand on the block. Defensively, he's a solid man defender who doesn't get backed down by his opponents, but where he truly shined was as a help defender, understanding his defensive rotations and routinely coming over to block shots.
luke vaske, pg, norwalk (2018)
Vaske showed no ill-effects from a broken wrist that held him out of a large chunk of the grassroots season, testing out as the top perimeter shooter. He made 14 3-pointers during the drill, and didn't even get all 20 of his possible shot attempts up in the allotted time.
The Norwalk point guard is in line for a big sophomore year, and did what he does best during game play – facilitate, then score when presented the opportunity. Outside of Collin Shannon, he may have been the best passer I saw throughout the day, showing plus-court vision and the ability to see things in the defense that other players don't. He's a phenomenal passer and high-level shooter with good form and elevation on his jumper. He's got a high basketball IQ, handles the ball well and doesn't turn it over much. A true point guard who will garner lots of college attention in the coming years.
kelvin miller, g, davenport central (2017)
The Davenport Central product was probably the most athletic player in the gym on Saturday, posting the lone 40″ vertical after measuring in at 5'11" with a 6'4.5″ wingspan.
His skill set is still catching up with his pure, natural athleticism, but he looked much more skilled at the Combine than when I saw him over the summer with the Iowa Mavericks. He's a talented combo guard with decent handles and he can shoot it a bit from the perimeter. He's got a great first step and is a strong, physical guard who won't be deterred by contact when he's driving. Defensively, he's got the ability to defend multiple positions, ranging from the one to the three (and some fours) at the high school level, and could probably defend both guard spots at the next level. He displayed his crazy bounce during game play when he came from the weakside a few times to block shots at the rim. There is a lot of ability here, it just needs to continue to be molded.
kenny quinn, pg, des moines hoover (2019)
Quinn was the top 2019 prospect that I saw over the weekend, and looks like a typical Hoover guard. He's a tough, physical player who will defend like crazy and is extremely scrappy and aggressive.
He showed the willingness to post up other guards on the offensive end, using his strength and solid footwork to score on the block. When he's out on the perimeter, he's got a quick first step and his strength allows him to get through the paint and finish at the rim through contact.
Where he truly shines right now is on the defensive end, showing great lateral movement and strong, quick hands when defending on the ball. He gets in the shorts of the player he's defending, stays in his stance and is a physical defender, but not to the point where he's going to get whistled for fouls. He has a good understanding of what he can get away with, and he makes life miserable for the player he's guarding. Quinn is certainly one of the top freshmen prospects in the state.
malcolm clayton, g, fort dodge (2018)
Clayton stood out on the offensive end, displaying a high basketball IQ, ability and understanding of how/when to move off the ball and he did quite a bit of damage when he had the ball in his hands.
He's a stocky, physical combo guard with a solid handle and good strength that he uses to get to the rim and finish through contact. He's a good passing guard with plus-court vision and good awareness on both ends of the floor. He needs to continue to iron out his perimeter shooting, but he's an intriguing scoring guard moving forward with his ability to get into the paint routinely and either finish or set up his teammates for easy scores.
tajen ross, sg, adm adel (2017)
Ross is a talented off-guard with good length (6'3″ with a 6'5.5″ wingspan) who tested very well athletically, finishing among the top 15 in the lane agility (11.66), weave agility (7.35) and vertical (36″).
He was sensational during game play, as arguably the top offensive player I saw, and one of the few with a genuine ability to break down the defense in the halfcourt and score seemingly at will. He's got a good, tight handle, good footwork and his floater game was fantastic during my viewings. He showed the ability to shoot from deep and shined in the mid-range, showing a high-level stop-and-pop game from the area around the free-throw line. Ross is a natural scorer who should be on the radar of area Division II/NAIA/Division III schools.
riley till, gf, dubuque wahlert (2016)
Till has been on my radar for a while now, and for good reason. The Wahlert wing measured at 6'7″ with a fantastic 6'10" wingspan. His length sets him apart from just about every player in the state, as there are few with his size and skill set across the state.
He looks like a much more confident shooter now, burying 3 after 3 during game play, stepping into each shot confidently and stroking it with range well beyond the high school line. His handle continues to improve, and he's got the ability to put the ball on the floor and finish above the rim. He and teammate David Wedewer provided the highlight of the afternoon when Wedewer drove the baseline, making the defense collapse. He kicked to Till, driving down the lane, who finished it with a thunderous tomahawk dunk. He's a natural athlete who doesn't really jump out athletically because of how fluidly he moves.
His length is a true difference maker on the defensive end, as he's got the ability to defend multiple positions and uses his length to disrupt both passes and shot attempts. He's got a few Division II offers, and with a good senior season, I wouldn't be surprised to see Division I programs start to get involved as other players around the country commit and they move on to new targets.